Cammy Bell explains decision to stay at Kilmarnock
By John Barnes
BBC Scotland
Last updated on .From the section Football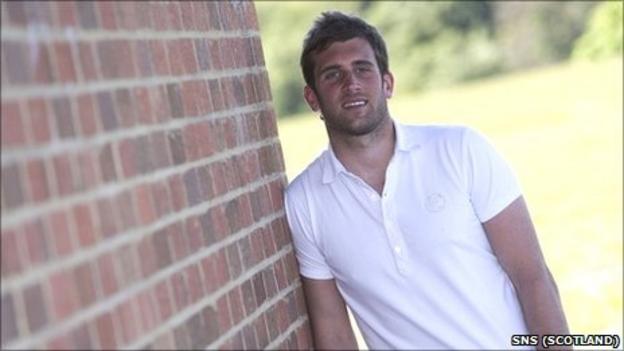 Keeper Cammy Bell insists his decision to sign a new two-year deal with Kilmarnock was not down to finance.
The 24-year-old Scotland cap, who was out of contract in the summer, revealed he turned down more lucrative offers from clubs in South Africa and Denmark.
Bell says he had to assess all options before making a choice of clubs.
"It was definitely not financial. I took the time I needed to think about things and make sure it was the right decision for my career," he said.
Ajax Cape Town, Aalborg and teams in England were among the teams he spoke to as he considered his future.
Bell confirmed: "I came to the conclusion Kilmarnock was the right place to stay. I spoke to Kenny last Tuesday.
"To be honest, I was 50-50 whether I was going to stay at Kilmarnock or not.
"He had to answer some questions for me and he did, he was brilliant with me and that made my mind up on the day and I signed the deal.
"Ajax Cape Town offered me a contract and it was a good contract. I spoke to Aalborg in Denmark and I also spoke to a couple of English teams.
"I did have a lot of contact with a lot of people but when I came and spoke to Kenny I knew I had made the right decision in staying at Kilmarnock and I'm definitely committed to being here for the next two years.
"I want to play in England one day but it maybe wasn't the right time for me to move there."
Chelsea's John Obi Mikel and Tottenham's Steven Pienaar are two of the most notable players who have progressed their careers having previously been with Ajax Cape Town.
Kilmarnock manager Kenny Shiels was delighted at Bell's decision and feels he has taken unfair criticism over the time taken to make a decision.
Shiels said: "Cammy's taken a lot of stick because people thought he was being hesitant, but he had so many lucrative offers from other clubs.
"He came to me and said, 'Kenny, I'm going to make a career decision, I'm going to stay with Kilmarnock' and I thought that was very good of him because he had other options and if he had taken the option for money it might have affected the pathway he was choosing.
"I feel he would maybe have drifted a bit if he'd taken a more lucrative offer, but he's declined to pursue that."
The Kilmarnock manager is currently assessing a few other players who are training with the club with a view to possible signings.