Nations Cup legend Mulamba Ndaye on the up
By Mohammed Allie
BBC Sport, Cape Town
Last updated on .From the section Football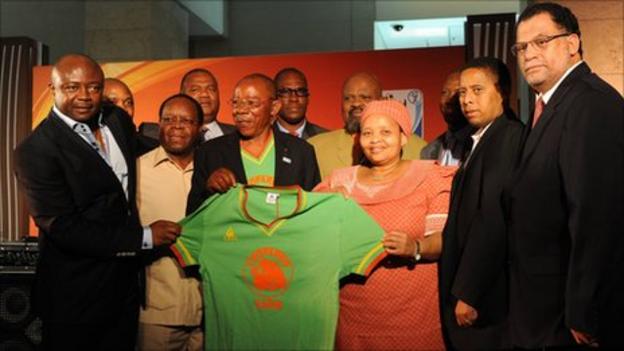 A few years after being down in the dumps, legendary Congolese striker Mulamba Ndaye, 61, has managed to turn his life around in some style in his adopted home of Cape Town.
After fleeing a chaotic situation in his home country in 1996, Ndaye fled DR Congo with only the clothes on his back.
He left Kinshasa after soldiers stormed his house, killing his 11-year-old son Jeff and shooting the Nations Cup legend in his left leg.
He eventually ended up working as a car guard in Cape Town, living in a small room provided by a generous local and living off handouts from Congolese friends.
They were the only ones who knew of his legendary status as the highest goalscorer in an Africa Cup of Nations finals - when he netted nine times in Egypt as the then Zaire won the 1974 tournament.
He was also part of the first sub-Saharan team to contest a World Cup finals, even though Zaire were humiliated in Germany: beaten by Scotland (0-2), Yugoslavia (0-9) and Brazil (0-3).
These days, Pierre Ndaye Mulamba (his proper name) lives with his South African wife Nzwaki Qeqe, to whom he has been married for five years, and his stepson in a neat three-bedroomed house.
"Things have changed since I last saw you (in 1998)," he told me when we met at his home.
"There's a big difference in my life - then I was on the street, now I'm living in a house with a wife," he said while relaxing on a leather sofa in front of a large-screen TV.
"I have friends who are making me happy," he adds, pointing to Monde Jonas, a 35-year-old part-time coach who works with Cape Town-based sports development agency Score.
Jonas met Ndaye by chance on the streets of the city centre last year while the coach was out shopping.
"I remembered his face from the documentary Forgotten Gold that depicted the story of his life and was shown on national television," said Jones.
"I felt blessed to have met Papa Ndaye and I immediately made plans to do something by getting him involved in Score's activities."
Ndaye's spirits were lifted by his involvement last December in a Unicef-sponsored event organised by Score in Khayelitsha where he refereed some junior games.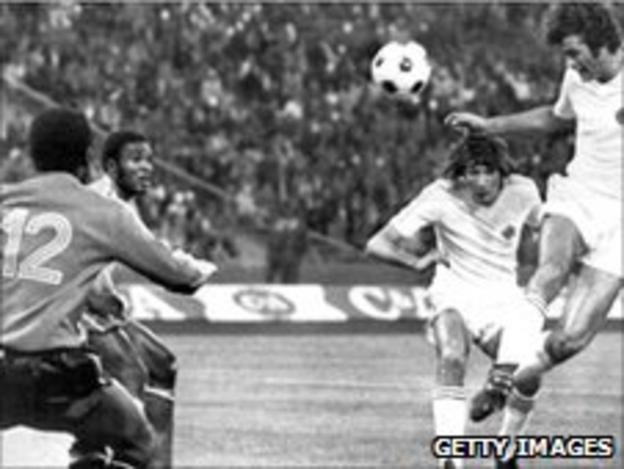 "I was very happy to be with my family because my family is soccer," said Ndaye, who evidently finds comfort and security in the game.
Things turned for Ndaye when he was first introduced to Ms Qeqe ten years ago during the course of her work in Cape Town's refugee protection sector.
"I must be honest and say I didn't know about Papa Ndaye and his record-breaking feats when I met him," she said.
"But after I was told about his status in African football, I realised he was someone I could utilise as a role model to assist in attracting young children to the game."
"His health is not too good because he is suffering from arthritis and the gunshot wound he sustained in his leg is starting to affect him more," Qeqe added.
After several years in relative anonymity, and having been erroneously reported as dead - which resulted in a minute's silence being observed for him at the 1998 Nations Cup - the African legend was invited to several 2010 World Cup events.
"I was invited to the opening game of the World Cup and Danny Jordaan also invited me to a gala dinner before the tournament where I met other African legends like Laurent Pokou, George Weah, Lucas Radebe and Abedi Pele," said the former striker.
Ndaye's walls are adorned with pictures of himself with Fifa President Sepp Blatter, Caf President Issa Hayatou, Jordaan and Ghanaian legend Pele.
"When I look at the pictures I'm very happy - when youngsters come to my house they are amazed to find out who I am and what I did," he says with a smile.
Despite his improved fortunes, Ndaye still harbours great bitterness toward the land of his birth.
When he returned to Kinshasa last year during filming for Forgotten Gold, he was welcomed back as a hero and also saw his daughter Sylvia for the first time in 15 years.
"I cried when I saw Sylvia after such a long time," he recalled.
"The people in Kinshasa who knew me were happy, particularly those who thought I died."
But the warmth of the welcome he received at home was unable to soothe the bitterness he still feels towards the authorities in the DRC.
"After all the honour I brought to the country I would prefer to stay in the bush in South Africa even if they gave me a grand house in a town in the DRC," he said.
"I am happy here (in Khayelitsha), I have freedom - real freedom."