Q&A with Academica president on Chelsea boss Villas-Boas
Last updated on .From the section Football
Only 20 months into his fledgling managerial career, 33-year-old Andre Villas-Boas was appointed boss of Chelsea on Wednesday.
BBC Sport asked Jose Eduardo Simoes, the president who gave Villas-Boas his first job in management at Portuguese side Academica, for his views on the new man in the Stamford Bridge hotseat.
Q - Jose, why did you appoint Andre Villas-Boas as Academica manager?
A - At the time Andre was working with Jose Mourinho at Inter Milan and I asked him to meet me in Coimbra, in Portugal. In the space of only two hours I got to know not only his character but also his technical competency, especially in the accurate and detailed way he had analysed Academica.
He talked about our weaknesses and our strengths and what needed to be done to improve the performance and results of the first team. I was impressed by the assertive and professional way he presented the match model he wanted to implement at Academica and his confidence on its success both for our club and for himself.
Q -Did you speak to Mourinho about Villas-Boas?
A - There was no need to. From the very beginning I could tell that Andre Villas-Boas had all it takes to make it to the top.
Q -How similar do you think Villas-Boas is to Mourinho?
A - As you know, the two men do not particularly like to be compared. However, they both have professional competency, ambition, accuracy, good social and motivational competences, they communicate well with the players, they are very focused on their objectives, they are always trying to improve and go higher and they "think football" 24 hours a day. But they are two very different people.
Q -How good a job did Villas-Boas do at Academica? Did he surprise you?
A - He did a very good job, he improved the players' self-esteem and produced good quality football. He took over for the ninth match of the season, but had he started the campaign leading the team we would possibly have made it as high as fifth in the table.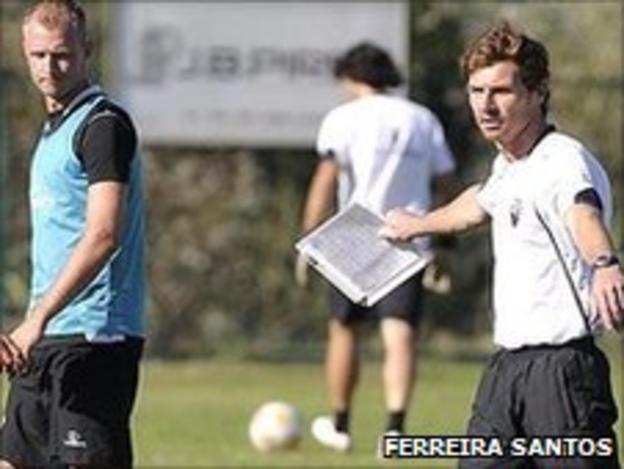 Right from the start, the whole team, everyone at the club and all the fans supported him. It was not surprising, what he achieved, as right from the very first meeting I could tell he was an extremelly well-prepared and gifted person.
Q -What sort of person is Villas-Boas?
A - Besides "thinking football" 24 hours a day, ie being very focused on his work, he has great human and social competences: he is a very nice and generous person.
He has got talent, he is a natural leader and easy to work with. He comunicates well, he has a clear and well structured message, he likes "mind games" and makes good use of them, he knows what he wants and how to achieve it and while he was at Academica he created a very positive working atmosphere around him.
Q -Are you still in touch with him?
A - Yes, we keep in touch. We talk and exchange text messages on the phone regularly and he has already invited me to go and watch Chelsea play any time I wish - which I will certainly do with pleasure. I am very proud of all his successes and of the ones yet to come.
Q -Do you think he will be a success at Chelsea and if yes, why?
A - Being a different kind of leader from Mourinho, he nevertheless shares the same capacity to motivate his players. The message is simple, objective and efficient, yet at the same time powerful and motivating.
I believe that if he is able to correct some aspects of Chelsea's game - which has occasionally been let down by an unclear model and strategy in the past - he will potentiate the team's ambition and be successful. In two years I can certainly imagine him winning the Premier League and the Champions League.
Q -Can he be a better coach than Mourinho?
A - Ask me again in two years. Still; how do you compare managers?
Jose Eduardo Simoes was interviewed by Jonathan Stevenson