Hearts face SFA investigation over tirade
Last updated on .From the section Football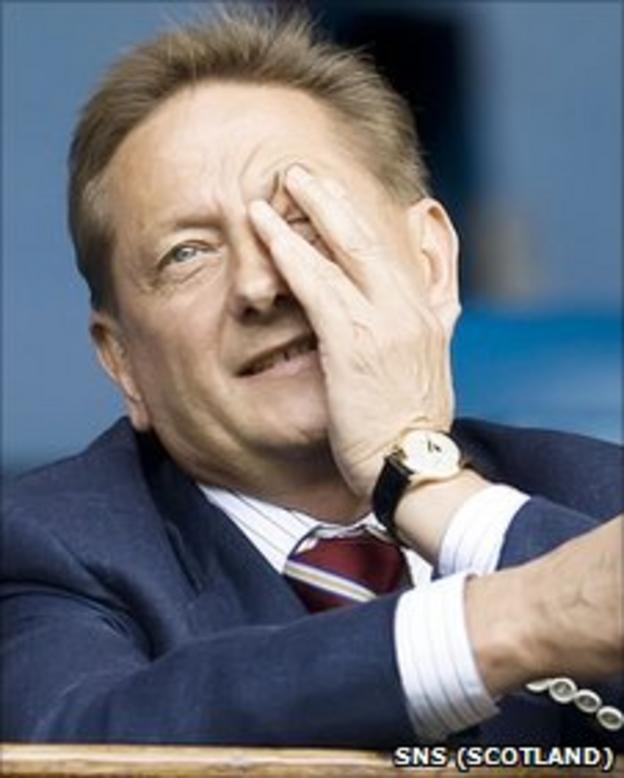 BBC Scotland has learned that the Scottish Football Association is likely to examine an outburst from Hearts.
Club owner Vladimir Romanov has a history of eccentric rants.
The latest statement, attributed to the board of directors, says: "We have been fighting to shield the club from crooks, criminals and thieves.
"Stealing players, bad games, problems with the law - all of that on top of record SFA fines. Problems are just shifted to another level."
The statement was released shortly after the Edinburgh club had announced that they were standing by defender Craig Thomson following an internal investigation into his conviction for "lewd, libidinous and indecent behaviour".
The 20-year-old full-back earlier this month pleaded guilty, was fined and placed on the sex offenders register in relation to his inappropriate conduct towards two under-age girls over the internet.
The statement added: "Every year Hearts fights to be in the top three, but even last season in the last 12 games of the season it was almost like someone replaced the team with a different one. Whose fault is that? Players? Manager's? Or it is mafia.
"Each year we are forced to fight against these maniacs harder and harder.
"We are standing in their way, not letting them manipulate the game of football in the way they want.
"As such they undermine us in every possible way they can."
Previous outbursts from Romanov have landed Hearts in disciplinary trouble and the Lithuanian-based Russian has more than once described the Scottish football authorities as "the mafia".
During the 2004-05 campaign, Hearts asked the SFA to investigate the "integrity of the decision" by officials to award a late penalty in a home loss to Rangers.
In October 2006, Hearts were fined £10,000 by the SFA for bringing the game into disrepute after further criticism of match officials.
And a £25,000 fine from the Scottish Premier League followed in February 2007 after accusations of the "buying off" of referees.
Earlier this month, Hearts were hit with a £100,000 penalty by the SFA's disciplinary committee for their poor on-field behaviour last season.
It is the seventh successive term that Hearts have been sanctioned and it is the highest-ever fine imposed on a club for indiscipline.
Hearts intend to contest the punishment, saying their disciplinary record has improved significantly.
A new judicial panel replaces the SFA's disciplinary committee and will be operational in time for the start of next season.