Arsenal board ready to sell Cesc Fabregas to Barcelona
By Dan Roan
BBC sports news correspondent
Last updated on .From the section Football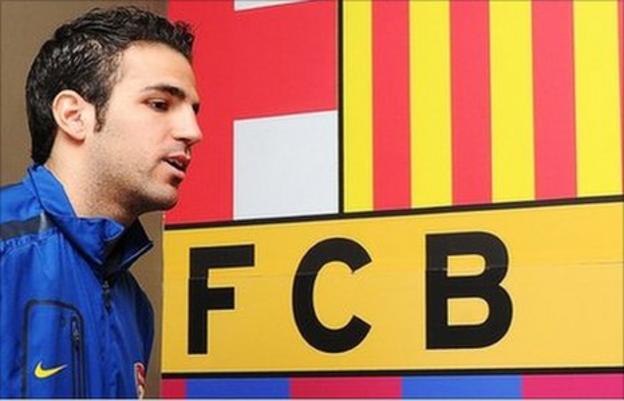 Arsenal are prepared to sell Cesc Fabregas to Barcelona if the two clubs can agree a fee, BBC Sport has learned.
The Premier League club have rejected an initial bid but are now bracing themselves for an improved offer.
A senior Arsenal official said: "The offer was made formally in writing to our chief executive (Ivan Gazidis), and we said no straight away."
Asked if the club expected another bid, the source said: "Possibly. If it's enough I expect we'll have to sell."
Arsenal's stance appears to have shifted since last season when they rejected two offers from Barcelona for Fabregas, a former trainee at the Nou Camp, and stated they had no intention of selling him at any price.
Since then, American billionaire Stan Kroenke has taken control of the London club and now faces the first major decision of his reign.
Barcelona's president Sandro Rosell said last week that Fabregas was trying to pave the way for a return to the club he left as a 16-year-old, but that the heavily indebted Spanish giants would not pay more than £35m for him.
Barcelona's latest bid is reported to be around £27m, well short of Arsenal's valuation of more than £40m.
Arsenal manager Arsene Wenger may still object to any sale, and Kroenke will rely on his manager's guidance when making a decision.
But Arsenal's board, consisting of Kroenke, Gazidis, chairman Peter Hill-Wood and directors Ken Friar, Sir Chips Keswick and Lord Harris of Peckham are aware of the difficulties of keeping the 24-year-old against his will.
His recent injury problems, combined with the emergence of Jack Wilshere, and the likely arrival of Argentinian Ricardo Alvarez, may also have influenced their thinking.
Fabregas is in Barcelona this week on a holiday, and his former club would like to complete a deal before he has to return to pre-season training in London next Tuesday ahead of a tour to the Far East.
Sources in Spain say that Barcelona have already begun talks with one of Europe's leading sports agencies over maximising the commercial opportunities of Fabregas' potential homecoming, suggesting a degree of confidence the deal can be finalised.