Fear of failure undermines England, says Jamie Carragher
Last updated on .From the section Football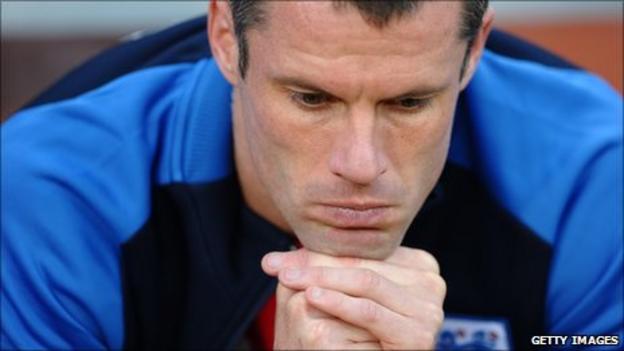 Jamie Carragher has admitted that there is a fear factor for England players.
"One mistake and you could be absolutely slaughtered," the Liverpool defender told BBC Radio 5 live.
"At your club, you know you will not be criticised as much and perhaps three days later there will be another game.
"With England, it could be months before you have another fixture. There is a fear at times when playing for England."
Carragher, speaking a year after England's elimination from the World Cup, said players sometimes buckled under the media scrutiny.
"The intensity of the press does get to the players," said the 33-year-old. "Sometimes I think players would prefer the press guy to think they had played well, rather than the manager."
England were knocked out of the World Cup in South Africa by Germany, beaten 4-1 in the second round.
Carragher played in the group games against the United States and Algeria after coming out of international retirement but was on the bench for the defeat by the Germans.
In a BBC Radio 5 live documentary, to be broadcast on Tuesday at 1930 BST, Carragher appeared to criticise England's set-up in South Africa, arguing that players were bored.
"You stay in a hotel all day but you are at a World Cup for a long time and should be able to experience different things," he said.
"I wouldn't want players holed up. Take away the boredom, embrace the country we are in more. You never see anything."
Tottenham manager Harry Redknapp echoed Carragher's sentiments.
"I spoke to a few players who said they were sat in their rooms waiting for the day to pass," said the Spurs boss. "Some said they were bored out of their brains."
Redknapp also argued that many Premier League footballers now prioritise club football over representing their country.
"The rewards, the money that is involved in club football and the desire to play in the Champions League - it seems the international game is almost taking second stage," he said. "Players are loved by their clubs but not always when they play for their country."
England won only one of their four games in South Africa, recording a 1-0 victory over Slovenia in their final Group C match, and were widely criticised for their poor performances.
Coach Fabio Capello remains in charge and has started to place more faith in youngsters like Jack Wilshere and Adam Johnson.
Former German international and coach Franz Beckenbauer believes Capello should place more trust in his younger players.
"I like Fabio but maybe he still holds on to older players," said Beckenbauer, who won the World Cup as a player and as a coach.
"Maybe he should be brave and bring on more youngsters. England always has a lot of youngsters."
Three Lions of Africa, examining England's World Cup failure in South Africa, will be broadcast at 1930 BST on Tuesday, 28 June. Former Football Association executive director David Davies will present the programme and host a studio discussion immediately afterwards.