Youth coaching in England must improve, says Glenn Hoddle
Last updated on .From the section Football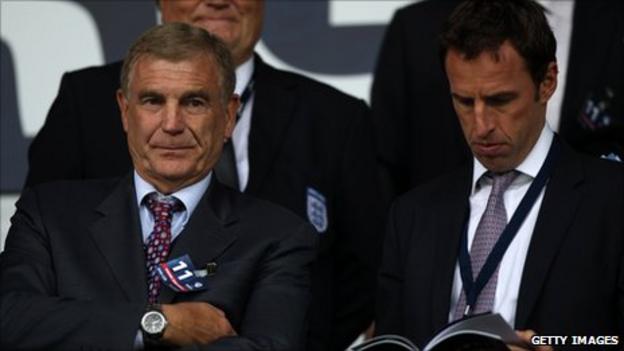 The quality of technical coaching for young players must improve if England are to succeed at international level, according to Glenn Hoddle.
"We still play the wrong sessions up to 15 years of age," the former England coach told BBC Radio 5 live.
"The pitches are far too big and the players need to master the ball."
But Gareth Southgate, the Football Association's elite development boss, insists attitudes are starting to change.
"I sense a shift," he said. "Our young coaches are starting to think differently."
Southgate was appointed to his role in January 2011, working alongside Sir Trevor Brooking to improve the quality of youth development in English football.
"The objective is to produce technically gifted players who are able to make decisions," Southgate told a 5 live documentary examining England's World Cup failure in South Africa a year ago.
"We have always been able to produce some technically gifted players - Paul Scholes is a classic example - but we need more of them and more quality coaches to come through the system.
"We need to encourage parents to encourage their kids to develop skills rather than focus on winning at the very earliest age.
"If we don't start implementing some of these long-term changes, then we will never have an opportunity of winning things and never progress to be as good as we could possibly be."
The FA recently introduced proposals that could revolutionise youth football in England.
Children will not be allowed to play 11-a-side games until under-13 level, while matches will be played on smaller pitches and with smaller goals.
Hoddle, who runs his own football academy in Spain, believes that there is an urgent need to implement change.
"Back in 1974 and in 1978, we did not qualify for back-to-back World Cups," added Hoddle, who was in charge of England from 1996 until 1999.
"People asked if we are technically good enough and everyone said 'no we are not. Are we going to do anything about it? Yes we are.' But I'm afraid that not that much was done about it.
"The system of bringing kids through at six, seven, eight, nine and 10 is probably the most important period of their technical life but not enough is done.
"We need it so that these young lads have 1,000 touches of the ball a month rather than 200."
Three Lions of Africa examining England's World Cup failure in South Africa will be broadcast at 1930 BST on Tuesday, 28 June. Former Football Association executive director David Davies will present the programme and host a studio discussion immediately afterwards.