Rangers boss Ally McCoist targets summer signings
Last updated on .From the section Football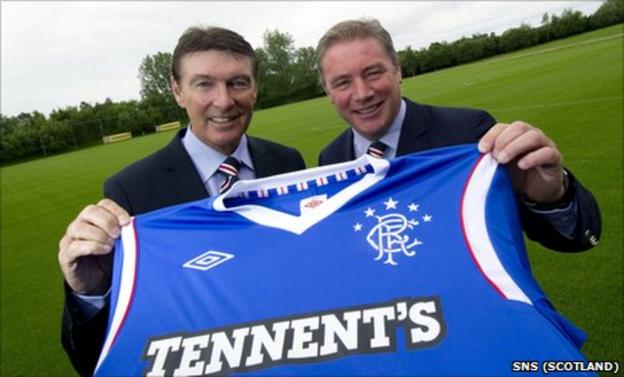 Rangers manager Ally McCoist is looking forward to his first season in charge at Ibrox with new players a top priority in the summer transfer window.
Aston Villa's Carlos Cuellar is on McCoist's radar, with a bid for Dundee United's David Goodwillie still alive.
"I'm enjoying it - it's all new and fresh and it's something I'm excited about," said McCoist.
"Carlos is a player we'd like to see come back, but there's a lot of things to be done between now and then."
McCoist succeeded Walter Smith and will now work closely with the club's new director of football, Gordon Smith, to attract new faces during the transfer window.
Former Rangers defender Cuellar is high on the manager's shopping list, but he also said the club's intention to sign Goodwillie was not dead in the water.
"Negotiations are going on between the two clubs, because Carlos is still an Aston Villa player and the clubs haven't agreed anything at all yet," said McCoist.
"But we've also spoken to Stephen Thompson at United about David Goodwillie. There's been no offer been made to my knowledge - but it's one we'll continue to push along.
"The situation is delicate."
McCoist lost out on Crystal Palace midfielder Neil Danns, 28, who has decided to join Leicester City on a free transfer. However, McCoist was unfazed at the blow to his signing plans.
"That's life," said McCoist. "There's no point in worrying about things you can't do anything about. We want players who want to play for Rangers.
"The majority of players you go for, you don't get; you have to accept that in management.
"You have to have backup plans, which we do.
"Sometimes it can be a little bit of a disappointment and perhaps a little frustrating - but I'm not disappointed, because it's something I expected to happen."
Smith agreed with McCoist's strategy on pursuing signing targets and outlined his role as the Ibrox club's new director of football.
"It'll be Ally McCoist, the manager, who is ultimately responsible for taking players on an deciding who he wants to sign," said the former Scottish Football Association chief executive.
"We all know in football that the ultimate target who is first choice sometimes doesn't work out and the next person might do better.
"Every signing is always a risk and there's never a signing where you can absolutely guarantee the person is going to fit in, so you just go on your knowledge, experience and opinion."
However, Smith refused to be drawn on the funds being made available by the new Rangers owner Craig Whyte to acquire players and asked for the club's fans to be patient while the job of restructuring takes place.
"We'll have money available in order to make bids for certain players and it depends on how many players we get in or how many we go for," said Smith.
"There are funds there and there is a budget, but I'm not going to say how much it is.
"I would say to the fans: don't be too worried. We're working on it - we've got targets and ultimately we'll be bringing players in.
"We have a certain amount of money and we have to be sensible - I think fans realise that nowadays.
"It shouldn't always be about money - my own opinion is that players should make decisions which are football decisions, rather than financial ones."