Equatorial Guinea play Norway at Women's World Cup
Last updated on .From the section Football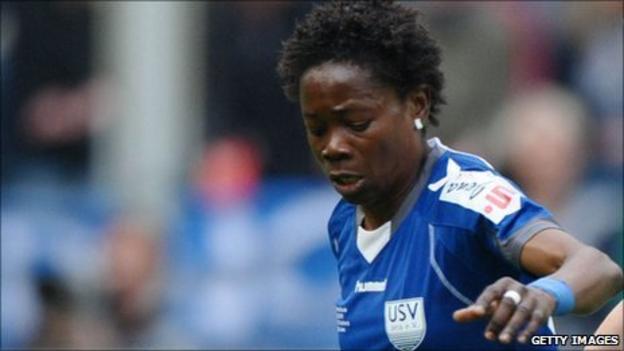 All the pressure will be on Norway as they face debutants Equatorial Guinea in Group D of the Women's World Cup in Germany on Wednesday.
The 1995 world champions Norway have never failed to reach the World Cup quarter-finals, and know they cannot afford to lose to the Africans in their opening game with matches against Brazil and Australia still to come.
"We know that Equatorial Guinea are physically strong, but we need to begin the tournament with a win," said Norwegian captain Ingvild Stensland.
Eli Landsem's side come into the World Cup in form, having held two-time reigning champions Germany scoreless for 79 minutes before giving up three goals in three minutes in a 3-0 friendly loss in mid-June.
Norway then last week upset title-contenders United States 3-1 in a friendly in Austria.
"We have a proud history. I think we have a decent chance at the World Cup," said midfielder Leni Larsen Kaurin.
"Anything can happen, and I hope we're within a shout of a medal. We could win gold, but everything would have to go our way for that to happen,"
Equatorial Guinea for their part have nothing to lose as the 2008 African champions play their first ever World Cup match.
Striker Genoveva Anonma said the team is nervous going into its first Cup and hope to use the experience to improve their career.
"It's very emotional because most players want to be in the position we're in right now," said Anonma, who was top scorer at German club FF USV Jena last season and secured a move to Champions League finalists Turbine Potsdam.
"I came here to improve my game a bit because playing in Africa isn't the same as playing in Europe," said Anonma.
Equatorial Guinea are without striker Jade Boho, who scored three goals in five games at the African Women's Champioship last year, because she is suspended over eligibility issues.
Boho was left of the Equatorial Guinea squad due the ban by the Confederation of African Football - which was extended globally by Fifa's Disciplinary Committee.
Reports suggest that Boho has played for Spain within the last five years.
Midfielders Dorine Chuigoue and Gloria Chinasa are also scoring threats for the Africans.
Expectations nonetheless are low for Equatorial Guinea, which could be perfect to upset Norway.