Rhodes men's football team expelled from Island Games
Last updated on .From the section Football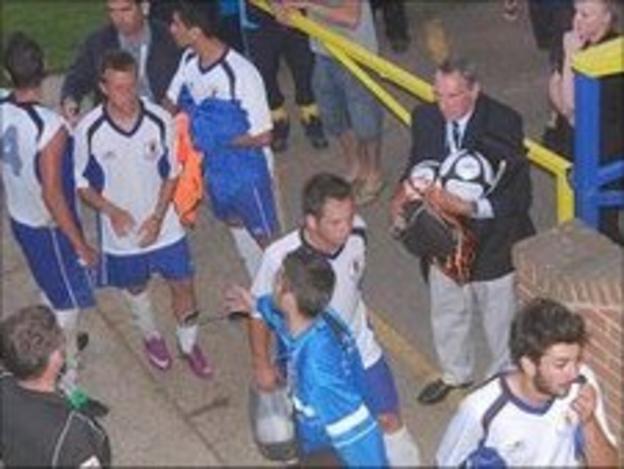 The Rhodes men's football team has been thrown out of the Island Games in the Isle of Wight and banned from the 2013 and 2015 events.
An unidentified Rhodes player, who was involved in an incident with a fourth official, has been given an "on-going Games suspension".
Rhodes also had two men sent off in their match with Greenland on Sunday.
The final group match between Rhodes and Menorca has been cancelled and the Rhodes footballers will be excluded from the events in Bermuda in 2013 and Jersey in 2015.
The Jersey Football Association president Ricky Weir had claimed the Greek island had brought the whole Games into disrepute.
A statement from the International Island Games executive said: "It is with regret that such decisions were needed to be made in order to retain the confidence and international integrity of the 'friendly Games'.
"The events were of such severity and in breach of recognised codes of conduct that the decisions are to take immediate effect."
Takis Mihailidis the president of the Rhodes Island Games Association said it would help discipline.
He said: "We are not happy for this decision and it was really hard to have but sometimes it is necessary to face reality and face the truth.
"It is going to help because we are going to have to consider the football culture of the island of Rhodes.
"It not only has to do with yesterday's game but also the whole history of football in the Games, we started competing in 1999 and we have had problems from the start."
The Rhodes football team has a history of trouble at Island Games tournaments.
In 2003 a match with Guernsey was abandoned when the Greek side had five players sent off.