Arsenal's board 'should be sacked' says former director
By Dan Roan
BBC sports news correspondent
Last updated on .From the section Football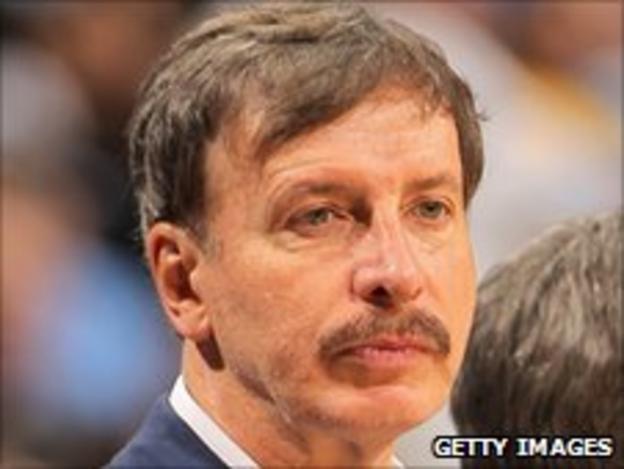 Former Arsenal director Lady Bracewell-Smith has called for the club's entire board to be sacked.
Lady Bracewell-Smith, who was axed as a director in 2009, is not happy with the way the club is being run.
On her Twitter account, she wrote: "I agree that current board should all go.
"They are passe. Have nothing more to give to the club at all. In time we will need a more dynamic pro-active, younger board, and a good directional leadership."
Lady Bracewell-Smith made £123m selling her 15.9% stake in Arsenal to Stan Kroenke in April, allowing the American billionaire to take control of the club.
Her stake had come from her husband, Sir Charles Bracewell-Smith, grandson of the club's former chairman Sir Bracewell Smith.
Asked why she was sacked by the board, Lady Bracewell-Smith wrote: "[They] couldn't handle a woman with power on the board. Felt insecure. Male chauvinism."
Arsenal's current board consists of Kroenke, chief executive Ivan Gazidis, chairman Peter Hill-Wood, Ken Friar, Sir Chips Keswick and Lord Harris of Peckham.
Lady Bracewell-Smith also initially rejected calls from some fans for the return of former vice-chairman David Dein, who was sacked in 2007.
She claimed Dein was "the root cause of all the troubles at AFC" before backtracking.
"I stand corrected," she tweeted on Tuesday. "Dein loves the club and although sometimes personalities fall out his contribution at Arsenal has been immense."
Dein left the club after he sold his shares to Uzbek billionaire Alisher Usmanov, who has refused to sell to Kroenke.
On Monday, BBC Sport revealed that Arsenal's board were now willing to sell Cesc Fabregas to Barcelona if the Spanish giants improved on their initial bid for the midfielder, submitted to Gazidis last week.
Lady Bracewell-Smith said: "It is obvious he wants to go. You cannot keep a player when his heart is not in it."
Both Lady Bracewell-Smith and Dein, who enjoyed a close working relationship with Arsenal manager Arsene Wenger, declined to comment when contacted by BBC Sport.