Curtis hails Swansea's massive Angel Rangel deal boost
Last updated on .From the section Football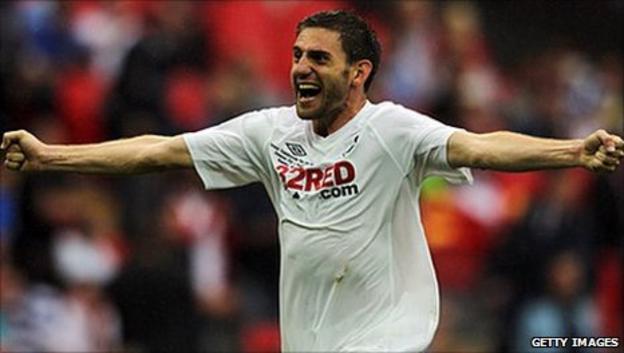 Swansea first-team coach Alan Curtis says Angel Rangel's decision to stay at the Premier League newcomers for three more years is a huge filip.
"This is a massive boost for everybody," said Swans legend Curtis.
"You speak to people in the street and they're disappointed with what seems to be a lack of signings and also key players going through the door."
Fulham and Blackpool showed an interest in signing right back Angel, but the 28-year-old - who signed from Spanish side Terrassa in 2007 - stays at the Liberty Stadium.
Curtis, one of the heroes of their 1981 rise into the old First Division, added: "We had a great start to the summer with Danny Graham signing and Angel - he increases the feel-good factor around the place again.
"It's terrific. He's been a big part of the club for the last four or five years and I'm delighted that we've given him the opportunity and he's grasped the opportunity to play in the Premiership for us.
"The fact that he's done the journey and been a really valued and consistent member of that team is his value to us.
"He's typical of the way that we play. He's really comfortable on the ball.
"Even though he's a defender he's got terrific ability, he's great going forward and his link-up play with Nathan Dyer was as good as anything in the league [Championship].
"Without even having to speak to anybody at the club, we're all absolutely delighted.
"He's tailor-made for it [the Premier League]. He has got good ability - he could play a variety of positions.
"You could stick him in the middle of the park, I'm sure of that, absolutely no problem or you could even play him as a wide player, a bit more attacking.
"He's got all the skills, all the abilities and when he first came over it was always his ambition to play in the Premiership and to play in the Premiership with Swansea.
"And I'm delighted that he's going to fulfil those ambitions with the club that he came over to all those years ago."