Safa ready to co-operate with Fifa over match-fixing
Last updated on .From the section Football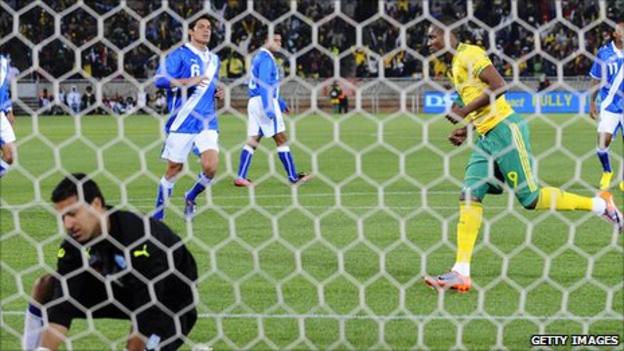 The South African Football Association (Safa) has said it will co-operate with any Fifa investigation into whether two of its World Cup warm-up games last year were fixed.
Safa added it wants to believe the games against Colombia and Guatemala were fair.
In a statement, Safa condemned "in the strongest terms" allegations of match-fixing in the friendlies and also pledged its support to Fifa to "root out the scourge" of fixing.
"As things stand, we want to believe that the matches under question were played in the spirit of fair play and that the outcome of the investigation will reveal efforts put by respective teams," Safa said.
The statement came two days after a Sunday newspaper reported that both South Africa matches were under suspicion as part of a wide-ranging Fifa probe into match-fixing in world football.
World football's ruling body has not commented on whether Bafana Bafana's 5-0 win over Guatemala, included three penalties for handball, in May last year is being investigated.
However, Fifa has confirmed that it is looking into a friendly earlier this month between Nigeria and Argentina, which the Super Eagles won 4-1 win and which showed suspicious betting patterns.
Safa said it had no knowledge of any investigation by football's world governing body into last year's friendlies, but promised stern action against any of its officials if they were involved in fixing.
"While no official notice has been communicated to us by Fifa, Safa is strongly against any form of bribery, unfair play and dishonesty," Safa's statement added.
"We would like to take this opportunity to assure Fifa of our unqualified co-operation and support should they institute any form of investigation.
"Should any of our administrative members be found to have played any role in the matter ... the Association will, without hesitation, take appropriate action against the culprits in order to protect its integrity and for the good of the game."
Both the South Africa-Guatemala and Nigeria-Argentina matches were handled by the same referee, Ibrahim Chaibou of Niger.
No players have been accused of wrongdoing.
Chaibou was also the referee when Bahrain beat a fake Togo team 3-0 in an infamous international last September.
Fifa is currently engaged in what it calls a "large scale investigation" into manipulation of football matches for betting syndicates.