England move above Brazil to fourth in Fifa rankings
Last updated on .From the section Football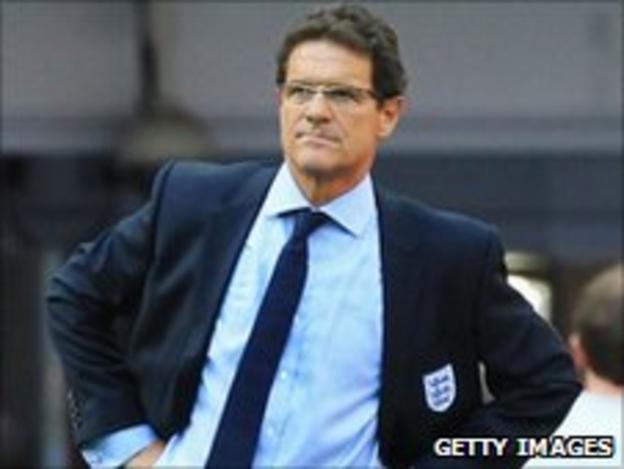 England have moved above Brazil to fourth in the Fifa world rankings, despite their recent run of poor form.
Fabio Capello's England side only reached the last 16 of last summer's World Cup and have not won their last two qualifying matches for Euro 2012.
Spain are top of the rankings, followed by the Netherlands and Germany.
Republic of Ireland (31st), Scotland (61st) and Northern Ireland (62nd) also climb the rankings but Wales stay in 114th place.
It is the first time England have been as high as fourth since 1997, after they reached the semi-finals of Euro 96.
However, Capello and his side have come under criticism after a poor World Cup and only managing a 2-2 draw against Switzerland at Wembley earlier this month - a result that the Italian coach blamed on fatigue.
Spain's haul of 1,871 points keeps them top and they are 210 points ahead of the Netherlands, who they beat in the World Cup final in South Africa last year.
Germany's 1,417 points moves them up to third, while England tally 1,146 points.
Brazil (1,130), Italy (1,059), Portugal (1,046), Croatia (1,033), Mexico (1,007) and Argentina (979) complete the top 10.
Fifa ranking points are accumulated according to results, the importance of the matches played and the strength of the opposing teams.
A team's total number of points is representative of a four-year period, calculated by the average number of points gained over the past 12 months and the average gained from older games, though that points total depreciates yearly.
Since they were knocked out of the World Cup by Germany just over a year ago, England have won five matches, including three qualifiers; drawn three, which includes two competitive games; and lost once - to France in a friendly.