Women's World Cup: Brazil & Norway secure opening wins
Last updated on .From the section Football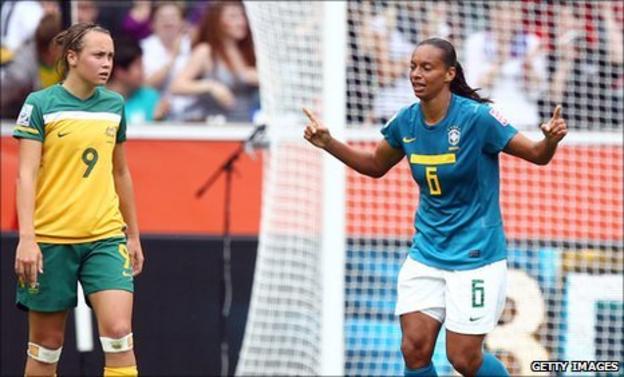 Rosana's cool second-half strike gave Brazil a narrow 1-0 win over Australia in its opening women's World Cup match.
The breakthrough came in the 54th minute when she took one touch past a defender before unleashing her shot past the helpless Melissa Barbieri.
Lisa De Vanna might have grabbed a late equaliser, but shot over in the 87th minute with only the keeper to beat.
In Wednesday's other Group D match, Emilie Haavi's late goal earned Norway a 1-0 victory over Equatorial Guinea.
Norway hit the post three times, and looked like they might have to settle for a disappointing goalless draw against the tournament outsiders.
But they scored six minutes from time when substitute Leni Larsen Kaurin broke free to enable unmarked Haavi to slot the ball easily.
Yet Guinea played with skill that belied their Fifa world ranking of 61.
Captain Anonman had several clear chances, and should have given the west Africans the lead in the 53rd minute when she put the ball wide after forcing a one-on-one with goalkeeper Ingrid Hjelmseth in front of 12,928 fans in a half-empty Augsburg Arena.
Guinea's squad was weakened before the start of the championship when striker Jade Boho was suspended from the tournament over Spanish citizenship issues.
In Moenchengladbach, Brazil's Samba Queens - runners-up four years ago to Germany in China - were delighted to get their bid for a first women's World Cup title off to a winning start.
"We scored in a very hard match, a well-balanced match, but thank God we scored and we can relax ahead of the rest of the tournament," said coach Kleiton Lima.
"This cup is surrounded by a lot of glamour.
"We have to improve when you play a World Cup. Despite the fact players are very experienced, they might be nervous. They might be anxious in the first game, but that's now out of the way."