I have nothing to prove at Swindon Town - Leon Knight
Last updated on .From the section Football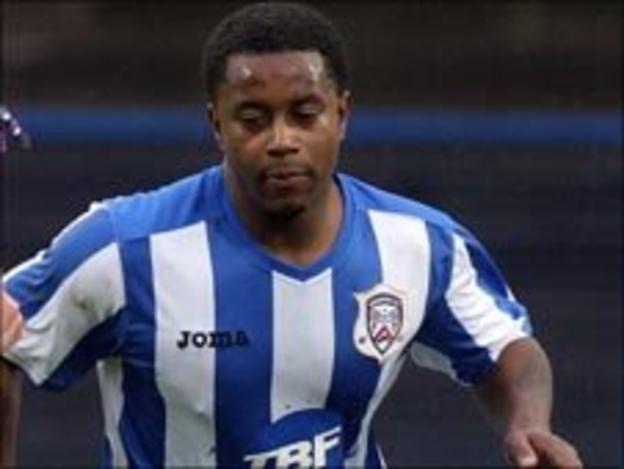 Forward Leon Knight says he has nothing to prove during his trial period at Swindon Town.
"I've got no point to prove," the much-travelled frontman told BBC Wiltshire.
"I've scored in League One, League Two, Conference and the Championship. It's not about proving anything, it's about getting back into the groove."
Knight started his career as a trainee at Chelsea in 1999 and was touted as a promising young player at Stamford Bridge.
But he left the Blues after making just one substitute appearance and went on to play for 10 different English clubs, gathering a bad-boy reputation along the way.
He was forced out of otherwise successful spells at Brighton and Swansea after clashing with management, and was also shown the door at Rushden & Diamonds.
Knight was on the verge of joining Darlington but the move fell through as a clause in his contract meant Diamonds kept his registration and demanded compensation for its release.
He was allowed to play outside of England under the agreed terms and had spells in the SPL, Greece and most recently in Coleraine, until his contract expired this summer.
Despite his chequered history, Knight insists his attitude has now changed: "I got disheartened that things weren't done on merit and I got in a bit of a strop sometimes when things weren't going my way. Certain managers didn't like it.
"I'm 28-years-old now, I've got kids and there's a time when you've got to knuckle down, get on with it and show people what you've got - put people in their place.
"I'm working for them now. When it was just me I was working for myself so it wasn't really an issue. If I acted badly and I got punished and lost a week's wages then it was only me I was punishing. Now, if that happens I'm punishing them as well."
Knight had an impressive season at Coleraine last year, finishing top-scorer with 18 goals, and he believes coming to Swindon and working under new boss Paolo di Canio will help keep his game in check.
"He [Di Canio] was painted with the same brush 10 years ago and he turned it round," said Knight.
"It will be good to work underneath a striker and obviously he was one of the best players to come and grace the Premier League, so that was one of the main reasons I decided to come here.
"I've worked underneath Italians before and I grew up under them at Chelsea so I know what they are about.
"I probably need it - it's probably the best thing for me."