A summer night by the river... To watch some football
By Steve Wilson
BBC Sport commentator
Last updated on .From the section Football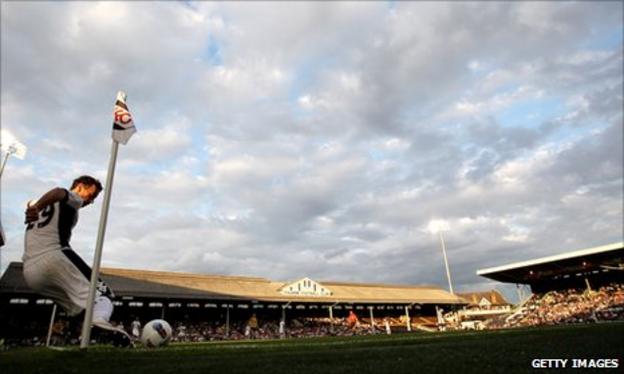 Putney can seldom have looked better. Warmed by the early evening sunshine, office workers are heading for the bars down by the Thames.
In Bishop's Park joggers and cyclists jostle for space on the riverside path whilst drifting on the breeze is the unmistakable smell of frying onions.
It's the first sign that six-and-a-half weeks before the first goal of the Premier League season will be scored, the 2011/12 campaign is about to kick off at Craven Cottage.
The Cottagers are about to begin their bid to qualify for the Europa League with a clash against the Faroe Islands minnows NSI - so I've headed along to find out what football in England in June is like.
PRE-MATCH
There is a distinct lack of tension at The Cottage. One bookmaker in Putney is quoting Fulham at 100/1 ON to win. After all Runavik have lost 11 of their previous 12 games in Europe.
It's time to meet some of the 50 or so yellow and black clad fans they have brought with them. It turns out that most are friends of relatives of the players and all agree that this is the biggest game in the club's history. I want to know how they all got so tanned on an island stuck half way between the Shetlands and Iceland.
The Fulham line-up is impressively strong - and so are their physiques after only a week of training. Not a beach belly in sight - how do they do that?
FIRST HALF
It's a great crowd with the Hammersmith End completely full - mind you, £10 a ticket with kids for a quid helps. You don't get that in the Premier League.
You don't get Justinus Hansen either, but the Runavik midfielder lashes a 30-yard volley just wide after 25 minutes. It's the best chance of the game so far. Surely Runavik can't ….. can they? No they can't, Damien Duff, 1-0.
HALF-TIME
Fulham's legend on the microphone, David Hamilton, has let me down for once. Not a word on the scores from the other matches in the competition.
Surely I can't be the only person wanting to know how Rad are getting on against Tre Penne? Then there's Banga versus Quarabag and IF v KR. The suspense is killing me.
SECOND HALF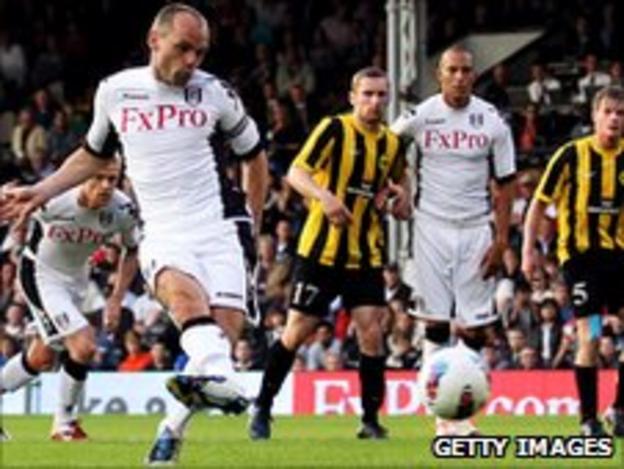 Runavik's Hungarian keeper Andras Gango looks a level above the Faroes Premier League. He makes a great block to deny Andrew Johnson and then spends as much time as he can holding his head after a collision with Bobby Zamora - impressive time-wasting worthy of a higher stage.
An hour gone and it's just beginning to feel a bit, well… pre-season, when Helgi Petersen trips Simon Davies. The ref says no penalty, the linesman puts him right and Danny Murphy puts it in.
Summer or winter, I can still summon up a cliché: the plucky part-timers are running out of steam as Andrew Johnson turns to hit a third with 20 minutes to go. Martin Jol allows himself a smile.
POST-MATCH
It ends 3-0 and everyone seems happy, Fulham are all but assured a place against Crusaders of Northern Ireland in the second qualifying round, Runavik have actually recorded one of their better results away from home in Europe and those of us who have found a month with no football tough have had our fix.
Now I'm off to find out how Honka got on against Kalju.