Crusaders FC swoop for flying winger - Serena the hawk
Last updated on .From the section Football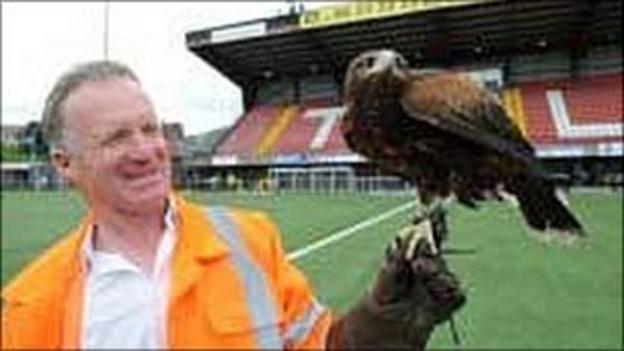 Flying wingers have been transfer targets at Irish League football clubs for decades, but there are not many as good in the air as Crusaders FC's latest signing.
The north Belfast team have gone further than most in their quest for success on and off the pitch by hiring a bird of prey.
Rufus the Harris Hawk has been helping the All England Club clear tennis courts at Wimbledon of the menace of pigeons this year.
The ace up Crusaders' sleeve is another Harris Hawk, named Serena after American tennis star Serena Williams.
The club's commercial manager Norman Coleman described the difference she had already made to the pigeon problem at their Seaview ground.
"Since I came back from holiday this week I haven't seen another bird about the place," he said.
"The problem with bird droppings etc had been shocking, it is a health hazard.
"We have done a lot of work to the ground and it is a hassle for people to have to keep cleaning the seats.
"It is the most humane way of dealing with the problem, it means the pigeons aren't killed, they are just chased away."
Eagle-eyed Irish league fans will recall the last hawk seen at Seaview was of the human variety, Dessie Gorman - known as the Dundalk hawk - who starred as a striker for Linfield FC in the 1990s.
Terry Turkington, who is Serena's manager at Falconry Services Belfast, explained that a good diet was as important to birds of prey as to the modern sports athlete.
"Serena the hawk is a really strong girl like Serena Williams and she is a champion too," he said.
"We would feed her on chicken and other meat as well as nutritional supplements."
He said Serena and two falcons would make at least three trips to the stadium in the first week and an assessment would be made later as to the regularity of their visits.
It appears the main threat to this winger, like her footballing counterpart, is the defensive wall.
"We would also be used by the likes of factories and recycling plants," Terry said.
"I was in Derriaghy doing a job at industrial premises and Serena got trapped behind a cavity wall overnight.
"I brought the drill down so we could pull away the cladding and get her out.
"She has a transmitter on her tail and if she hadn't been wearing that we wouldn't have known where she was."