Robert Garrett agrees new three-year Linfield deal
Last updated on .From the section Football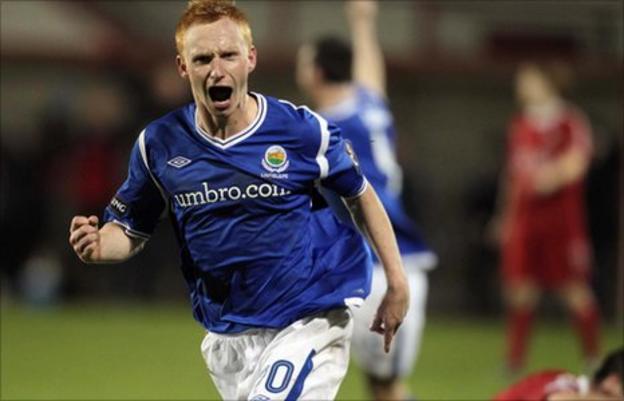 Midfielder Robert Garrett has signed a new three-year deal with Irish Premiership champions Linfield.
The Northern Ireland international had been hoping for a return to full-time professional football but has now agreed to extend his stay at the Blues.
"Robert always made it clear to me that at no time did he want to sign for another club on the island of Ireland," said Linfield manager David Jeffrey.
"The signing is testimony to our understanding of Robert's situation."
"The club always fully understood and respected Robert's ambition to continue his career on a full time basis.
"We were also equally clear that this was a situation that couldn't run and run.
"He always emphasised that if he couldn't fulfil his ambitions on the mainland, his future would be with Linfield.
"We didn't want to force the issue and Robert at all times respected the club's needs - I am very, very pleased that he has re-signed.
"He has made an enormous contribution to the club's recent successes and I personally feel that as good a player as he is, he can become an even better player," added Jeffrey.
The Blues boss is still waiting for news on whether Garrett's midfield partner Jamie Mulgrew will also accept fresh terms.
Mulgrew is also hoping to secure a move to the full-time game but is likely to sign again for the Windsor Park club if his ambition is not realised.