Talks between Zimbabwe's Musona and Hoffenheim delayed
Last updated on .From the section Football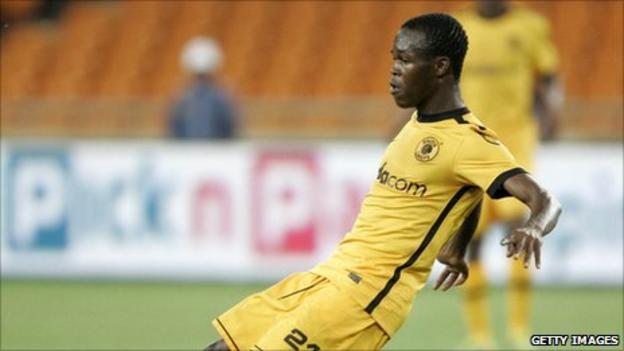 Zimbabwe striker Knowledge Musona's talks with German side Hoffenheim have been delayed.
The 21-year-old is still in South Africa but his agent Mike Makaab insists the discussions will go ahead.
"He's still in South Africa, but we expect him to leave at the end of the week or early next week at the latest," he said.
The Bundesliga side have already had an offer for the 21-year-old accepted by his South African club Kaizer Chiefs.
"Hoffenheim are in pole position and it will be interesting to see what happens over the next week or so," Makaab added.
"He's going for a physical assessment and medicals so we just hope that all goes well."
Musons was the top scorer in South Africa last season with 15 goals and has recently been linked with Scottish side Celtic.
Last week Kaizer Chiefs' team manager Bobby Motaung confirmed the deal with Hoffenheim.
"We've negotiated the offer club to club so now it's more about the player and what he wants," he told BBC Sport.
The striker hit the headlines last month as he scored twice for Zimbabwe as they beat Mali 2-1 in a 2012 Africa Cup of Nations qualifier.
Motaung also confirmed that Celtic boss Neil Lennon has shown an interest in Musona but insisted Chiefs would not be holding an auction for their star striker.
"It's not an auction - we have been engaged with talks with Hoffenheim for a month now and now we have to go to Germany," Motaung added.
Bafana Bafana's World Cup hero Siphiwe Tshabalala has also expressed an interest in leaving Chiefs during the close season.
However, Motaung said he would like to hold on to the winger, who recently captained his country in the 0-0 draw against Egypt in Cairo in a Nations Cup qualifier.
"He's our player and we are not in the business of selling players. There is nothing like that at the moment so we are in no rush," he said.
"But if there is an offer like Musona has, then we will honour that."