Carlisle boss Greg Abbott plays down striker talk
Last updated on .From the section Football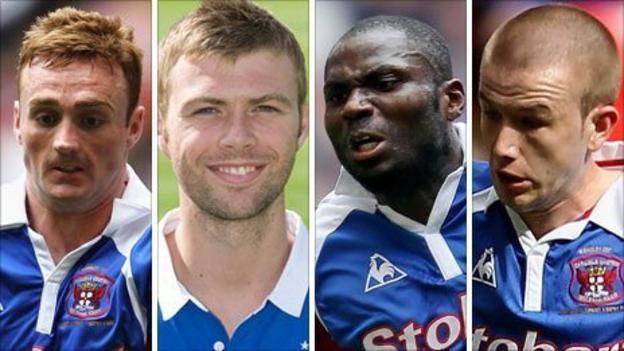 Carlisle United supporters should not expect a new forward signing before the start of the season, according to manager Greg Abbott.
Abbott made a new striker his number one priority this summer but has been left frustrated in the transfer market.
"There's always a chance that one may come in but we can't discard others too early," he told BBC Radio Cumbria.
"Before we look elsewhere we've also got to give the opportunity to the forwards already at the club."
Abbott will now give his four existing forwards - Francois Zoko, Craig Curran, Paddy Madden and Rory Loy - the chance to impress in pre-season.
The four strikers managed just 15 goals between them in League One last season.
"We've got to score more goals than we did last season and that's a responsibility I have." Abbott said.
"We brought Rory and Paddy in knowing they wouldn't be ready last season and now they are going to be given an opportunity,
"I will re-address that situation after seeing how they look in the friendlies, and if it looks like they are not going to get the goals we will look at that again."
Abbott also stressed he would be patient if he decides he does need to bring another forward into the club.
"There's a number of names on our striker list but I won't rush in to sign a player that won't be any better than those two (Loy and Madden)."
Abbott also ruled out a possible return for former United striker Vincent Pericard, following his recent release by Swindon Town.
"I was interested in Vince when he was here and I told him not to go anywhere," Abbott said.
"He chose to go elsewhere and it hasn't worked out for him, it's very difficult to come back."
The Cumbrians have made three signings so far this summer: wingers Andy Welsh and Jon-Paul McGovern from Yeovil and Swindon respectively, and defender Stephen O'Halloran following his release by Coventry City.
Abbott said: "That's probably about it for now unless there's someone out there who becomes available who would make everyone go 'wow',
"I said (we needed) three players and we've now got three." he added.