Women's World Cup: England out to dethrone Germany
By Alistair Magowan
BBC Sport in Germany
Last updated on .From the section Football
England's star striker Kelly Smith would like to see an end to Germany's dominance of women's football in what may be her last World Cup.
Hope Powell's side could face the reigning world and European champions in the quarter-finals.
But first they must get at least a point in their final Group B game against Japan on Tuesday to secure their passage to the last eight.
"It's your dream to win the World Cup but our main focus now is just to get out of the group," Smith, 32, told BBC Sport.
"It would be nice to knock the Germans off their perch, with them winning the last European Championship and the World Cup.
"Maybe another nation can step up and take them off their mantel, maybe it could be us, who knows?"
Hosts Germany are aiming to become the first international team to win three World Cups in a row but they have been criticised by their local media for a slow start to the tournament, despite winning their first two games.
Japan striker Homare Sawa, who scored a hat-trick against the Mexicans in what is her fifth World Cup, agrees that women's football would benefit from a different winner.
"It's always good if it isn't the host nation that wins," the 32 year-old told BBC Sport
"It's more interesting. Everyone knows Germany is a very strong football nation so in that sense it would be good if somebody else wins, because we learn something."
England will be aiming to top the group when they take on Japan in Augsburg. Smith knows the competition could be her last chance to underline her status as one of the world's best players, having scored 43 goals in 106 England appearances.
The Boston Breakers forward scored twice when the two teams shared a 2-2 draw in the 2007 World Cup in China. And after England's 1-1 draw against Mexico and the 2-1 win over New Zealand this time around, Smith believes the team may benefit from being more relaxed.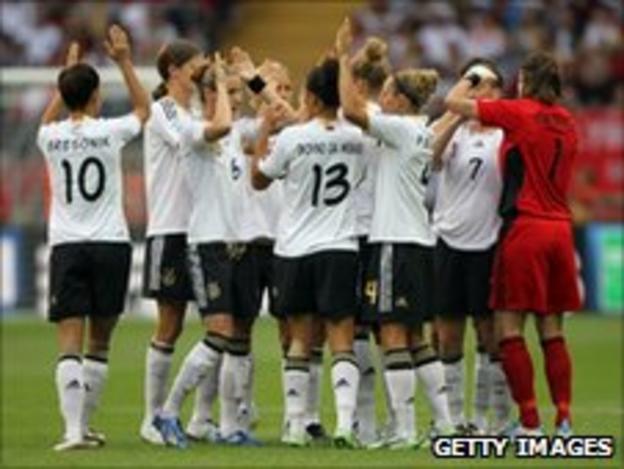 "We are going for a win, we don't normally set out to draw the game," she said. "We really want to get three points and top the group.
"We know what kind of style Japan play. They are tight and technical but if you put on aggressive pressure and pressurise them they're not too keen on that.
"We've learnt so far that we need to start games better. We are creating chances, we are just not finishing them and hopefully in the next game we will put them away.
"In the last couple of games we have been a bit tense and maybe the pressure has got to us a little bit but in this game we just don't need to lose it so maybe we can relax a little bit, enjoy it and play with a smile on our faces."
Smith added: "You have to grab the opportunity with both hands whether you are 21 or my age, you might not play in the World Cup again, you might not qualify.
"You have to enjoy the experience, there are not too may women who can say they have played at the World Cup."