Referee sorry for missing Equatorial Guinea handball
Last updated on .From the section Football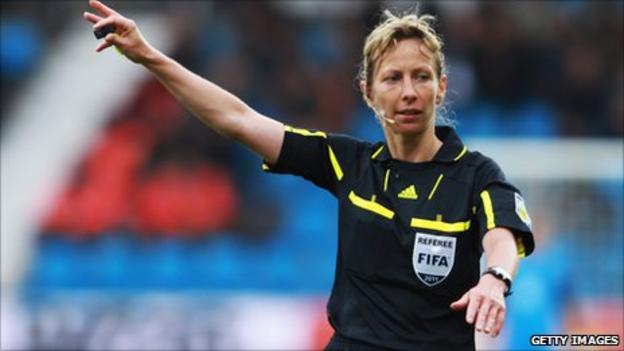 Hungarian referee Gyoengyi Gaal has apologised to Fifa for missing an obvious handball during Equatorial Guinea's 3-2 loss to Australia at the Women's World Cup on Sunday.
Equatorial Guinea's Bruna caught and held on to the ball for a few moments, believing a free-kick had been awarded.
The defender then let the ball drop to the ground but Gaal waved play on amid Australian protests.
The incident was also missed by the assistant referee.
The Women's World Cup in Germany is not using the two additional officials behind the goals that have been tested out in other tournaments, including the Europa League.
The loss to Australia and Brazil's 3-0 win over Norway means that Equatorial Guinea can no longer reach the quarter-finals in Germany.
Gaal, who has been a referee since 2002, has not been named to officiate in any of the eight final group games.