Falkirk's Steven Pressley critical of Vladimir Romanov
Last updated on .From the section Football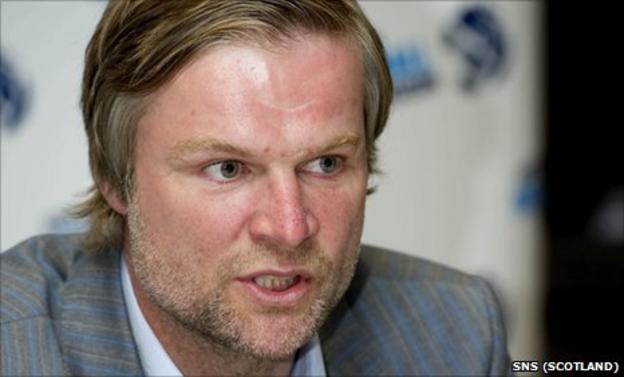 Falkirk boss Steven Pressley has criticised Hearts' owner over the controversy surrounding Craig Thomson but praised manager Jim Jefferies.
Thomson was placed on the sex offenders register after pleading guilty to two charges of indecent behaviour.
Vladimir Romanov then released a statement blaming "mafia" and "outside influences" on the club's problems.
"I think the manager has handled it very well," said Pressley. "I don't think the owner has."
Pressley left the Tynecastle club by mutual consent in December 2006 after announcing to the media that there was "significant unrest in the Hearts dressing-room" because of Romanov's comments about selling players if they failed to win matches.
Now he has criticised the Lithuania-based businessman's role after Thomson returned to training with the club following his court case before being suspended after public protests.
"I think Jim has handled the situation very well and he's had to deal with a lot, considering," said Pressley. "I think he's been put in a very precarious position and a very difficult position.
"But he's handled it exceptionally well. I don't think he needed to be put in such a position."
Pressley was also critical of the recent stalemate in the Scottish Premier League's proposals for reconstruction, which included reducing the number of clubs in the top flight.
That has since been put on hold because of opposition from clubs that would prefer either the status quo or an expanded league.
"We've got a ridiculous situation where you require an 11-1 vote for change to happen - what chance have you got for progression with that?" said Pressley.
"Too many chairmen are only looking after themselves and not the interests of Scottish football.
"There has to be a play-off place. We're the only country in Europe where one team gets promoted to the top division. We need a second team promoted through a play-off place, to maintain interest into the latter part of the season.
"It would generate a quarter of a million for a club of our size, which is enormous money for the season ahead.
"They need to do something and the sooner, the better."
First Division outfit Falkirk have undergone significant reconstruction since dropping out of the SPL and Pressley has spent most of his time as manager releasing players and bringing through members of the youth squad in an attempt to stablise the club.
He insists the goal for next season is to work on the on-field performances before thinking about a return to the SPL or setting any unrealistic targets.
"Everybody must understand the reality of the situation," said Pressley. "For 14 months, I had to dismantle the squad and balance the books to bring the club back into a stable financial position.
"People need to understand that - but I'm sure the fans are coming to terms with it and they'll get behind our young group of players if we can get our finances in order."