Peter Ridsdale to become new owner of Plymouth Argyle
Last updated on .From the section Football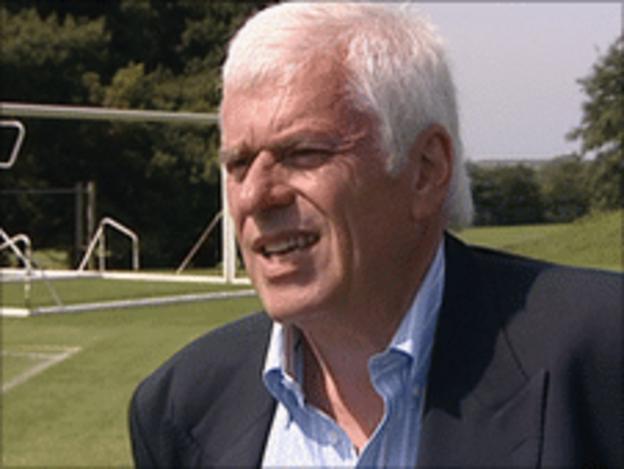 Acting chairman Peter Ridsdale will take control of Plymouth Argyle when a deal with a consortium to acquire the club's property assets is completed.
The former Leeds, Barnsley and Cardiff chief executive will pay just £1 to become sole shareholder of a new company controlling the club.
A club spokesman told BBC Sport that the deal is very close, and relies on the administrators approving it.
"It's now just a matter of dotting the i's and crossing the t's," he said.
The land surrounding Home Park and the ground itself will be sold to an Irish consortium, who are being advised by Truro City chairman Kevin Heaney.
"Once that bid happens, immediately afterwards the club will become Peter Ridsdale's," the spokesman told BBC Sport.
Any deal would still have to be ratified by Argyle's administrators, who have been battling to find a way to save the financially stricken club since it went into administration in March.
Ridsdale told BBC Spotlight: "The contracts were sent back to the respective parties on Friday night.
"We're just waiting to hear this morning if there are any final amendments.
"Whether that'll be this morning, this afternoon or tomorrow morning I don't know, but it is very close now."
Once the takeover is complete Ridsdale will then need to go to the Football League and prove that the club is fit to be taken out of administration.
"That's not a simple process but I think our objective is to do that by 6 August," Ridsdale added.
The club had only 11 players for the first day of pre-season training at a new temporary training ground at Plymouth's University College Marjon.
The club can sign up to 20 players while they are in administration, provided they can pay their wages.