Notts County pay Barnet compensation over Martin Allen
Last updated on .From the section Football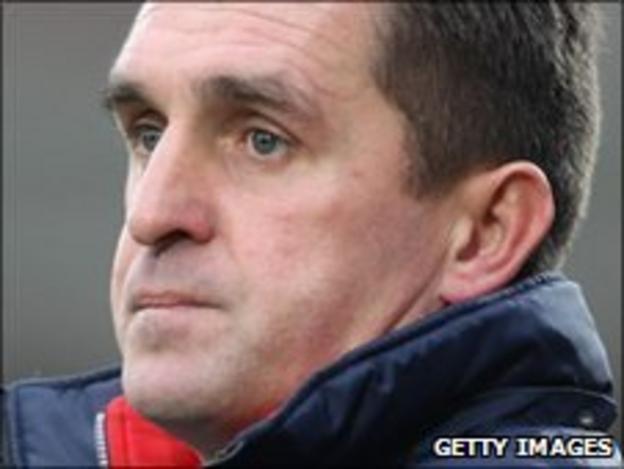 Barnet have confirmed the club has accepted a compensation offer from Notts County in relation to the appointment of manager Martin Allen.
Allen left Barnet after only 19 days in charge last April and immediately took over as manager at County.
Barnet chairman Tony Kleanthous said the offer vindicated his decision to report County to both the Football League and Football Association.
He said: "I am pleased we were able to resolve things amicably."
Kleanthous sought legal advice after Allen's move, which was made after three matches of what Barnet claimed was an eight-match contract. At the time, Barnet were fighting to avoid relegation from League Two into the Conference, an objective they only secured on the final day of the season.
In a statement that appeared on the websites of both clubs, Notts County chief executive Jim Rodwell confirmed that agreement had been reached between the clubs.
Rodwell said: "It became clear shortly after we appointed Martin that Barnet were unhappy with the manner that the appointment came about and we have maintained a constant dialogue with them ever since.
"I am now happy to say we have reached an agreement acceptable to both clubs."
The statement goes on to say that Allen had accepted a contract to manage Barnet for the last eight games of the 2010/11 season, but that on April 11, having overseen just three games - two of which Barnet had won - he had telephoned Kleanthous at around midnight to announce he was joining Notts County.
Allen then oversaw two wins and two draws in County's seven remaining games, a return that ensured the Meadow Lane club were not relegated from League One.