Clichy move could trigger Enrique interest - Pardew
Last updated on .From the section Football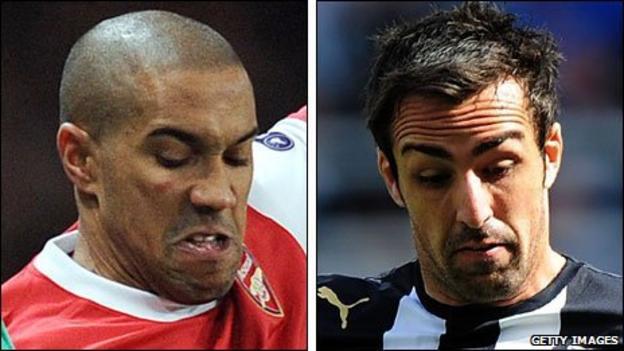 Newcastle boss Alan Pardew believes Gael Clichy's move from Arsenal to Manchester City could impact on the future of left-back Jose Enrique.
Enrique is yet to agree an extension to his deal at St James' Park, which has a year to run, and Pardew admits Clichy's move could spark new interest.
"I don't think it helps the situation," Pardew told BBC Newcastle.
"There'll be a lot of speculation about who will replace Clichy and the knock on effect. It's not helped our cause."
Pardew added: "There was a big part of me thinking he would not return for the first day of training but it looks like he is going to take part and that's good news."
The former Spain Under-21 international was linked with a switch away from St James' Park for much of last season, with Liverpool one of the reported suitors for his services.
However Pardew has consistently outlined his desire to retain the full-back at the club, despite the player's ambitions.
"No one is more keen for him to stay than myself. He was a terrific player for us last year and terrific for the club," Pardew said.
"We're trying to persuade him to stay, but as he's got a year to run on his contract and has a desire to play Champions League football, at his age it means it'll be difficult to keep him.
"It's one of those where we have to keep watching and hope it falls our way.
"It would be foolish not to have a back-up plan, which we have, and that will kick into operation if Jose does leave."
Pardew was the special guest on BBC Newcastle's Total Sport programme, broadcast every weekday evening from 1730 BST.