Darren Pratley rounds on Swansea chairman Huw Jenkins
Last updated on .From the section Football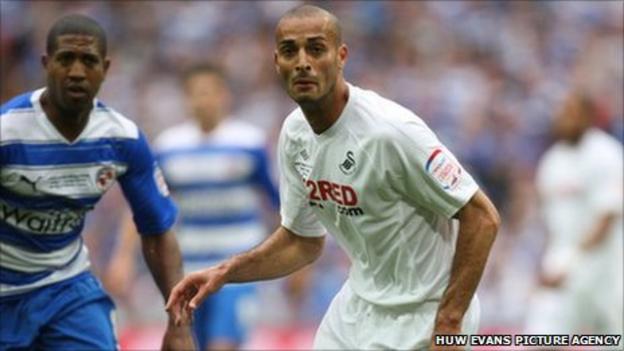 Darren Pratley says he left Swansea City to sign for Bolton because the club was slow to negotiate a new deal.
The midfielder holds chairman Huw Jenkins responsible.
Pratley, 26, said: "The press asked me and I put it public that I wanted a contract and then the chairman of Swansea... when I was on holiday, I read the paper and it said 'we're in no rush to give Darren a contract'."
"So from then I was very disappointed... of what he said."
Swansea chairman Huw Jenkins has yet to respond to Pratley's statement.
The energetic midfielder lost his starting place in the latter part of last season as Swansea secured a play-off place by finishing third in the Championship.
He scored after coming on in their semi-final second-leg win over Nottingham Forest and played the last 35 minutes as a substitute in Swansea's play-off final win over Reading.
Swansea rejected a bid from Forest for Pratley in August 2010, but a career-best return of 10 league goals from 28 starts last season caught the attention of Bolton, Wigan Athletic and Newcastle United.
Pratley helped Swansea win two promotions in five years, but negotiations on a new contract were put on hold throughout last season.
The player found that unacceptable, adding: "Obviously the contract situation dragged out all through the season.
"And after the final I sat down with my family and that and we looked at what clubs were around and I chose Bolton because I believe it's the best club for me."
Swansea, who broke their transfer record by signing Danny Graham for £3.5m, have also rejected Newcastle's £1m bid for full-back Neil Taylor.
But Pratley admits being a promoted Premier League player before joining one of Swansea's new rivals is a boost.
He said: "Obviously [I'm] delighted for Swansea for getting promoted into the Premier League.
"Leaving them going into the Premier League - if there is a best way, that's the best way to leave.
"They're promoted and obviously they get a lot of money for getting into the Premier League.
"And for myself, I'm a Premier League player before I came here [Bolton] and yeah, [I'm] delighted."