Newport boss Anthony Hudson backs full-time move
Last updated on .From the section Football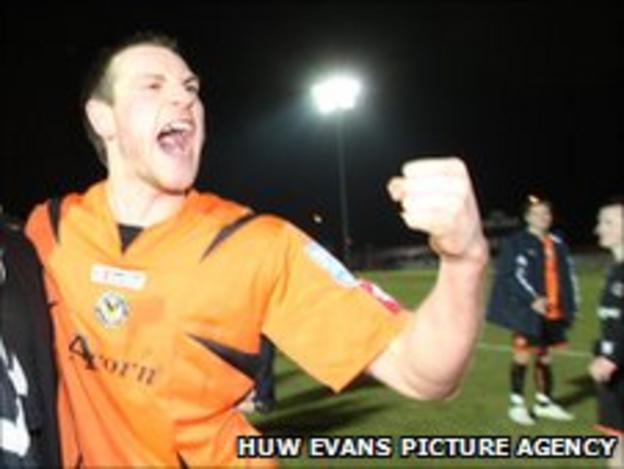 Newport County manager Anthony Hudson is convinced his side's move to professional status will help launch a promotion bid.
The Welsh club finished ninth in non-league's top-flight and Hudson is hoping to build on that next season.
"It's imperative that we have to be full time," said 30-year-old Hudson.
"It's going to be a real tough year. We have to look at everything we do and try and make it better."
County had been a part-time club, generally training twice a week, since a phoenix club rose from the ashes of the old Ironsides in 1989.
The old County dropped out of the Football League in 1988 and were wound up the following year in the middle of a Conference season - but the new set-up have climbed their way back into the division where the old club floundered.
Hudson, who was appointed manager in April following a spell as Tottenham Hotspur reserve team coach, is determined to hit the ground running in the new campaign.
"We're just going to focus on how we prepare, our work ethic, our discipline and our organisation," he added.
"I believe the results will take care of themselves.
"We want to finish as high as we can. We'll be very strong and we'll be a team that has a good chance of being in contention."
All players signed on for next season are already on professional contracts, including club captain Gary Warren, who had wanted to continue his career as a teacher.
"We're really pleased that Gary's committed full-time," added Hudson, the son of former Chelsea and England midfielder Alan Hudson.
"He's one of those players that when you're on the training pitch or on the touchline, you're just so pleased you've got a Gary Warren in your team.
"He's not only a Football League player but I believe he's going to go on and play at a high level."
Hudson has worked to ensure County players live near to Newport's Spytty Park home in the build-up to the opening game of the new season at Kettering Town on 13 August.
"We can't have players travelling two or three hours after training every day," he said.
"It's also very important that the players understand what being in the Football League means to the people of Newport.
"And you can only find that by being here."