Nigeria finish campaign on a high
Last updated on .From the section Football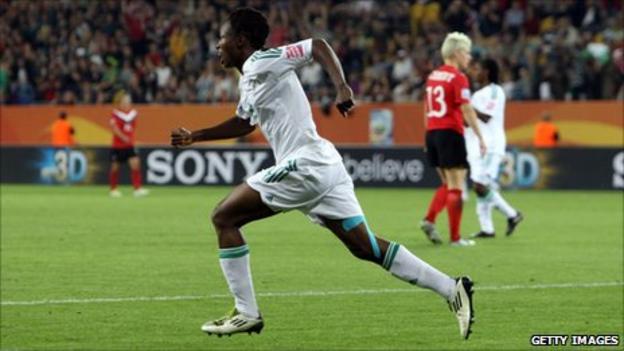 Nigeria finished their Women's World Cup campaign on Tuesday with a 1-0 win over Canada in Group A in Dresden.
But both teams are heading home after failing to reach the quarter-finals.
Nigeria were the fastest to react following a 10 minute-long power-cut in the second half, with Perpetua Nkwocha getting the winner in the 84th minute - just after the lights went back on.
Nkwocha, who had hit the post in the first-half was the fastest to react to a blocked shot to score.
Nigeria coach Eucharia Uche said she was happy with the victory.
"We were out of contention from the tournament's out-set when we lost to France and I don't think we will make that mistake again," she said.
"This is a plus for the game in Nigeria. We should be talking about playing in the finals, but we are lagging behind in Africa in terms of preparations, in terms of league.
"Lots need to be done, we need to catch up with the rest of the world."
It was heart-break for the Canadians as the Concacaf champions now head home with three defeats from their World Cup campaign, while Nigeria picked up three points for their first victory.
As both sides lost to quarter-finalists France and Germany in their previous group games, this meeting at Dynamo Dresden's ground was simply for pride in front of 13,638 fans.
Stadium spokesman Winfried Nass has said there will be an inquiry into the power cut and the problem will be solved before Sunday's quarter-final after the stadium's back-up generator failed following a brief power failure in the Dresden area.