Fifa president Sepp Blatter tips Africa to dominate
By Steve Vickers
BBC News, Harare
Last updated on .From the section Football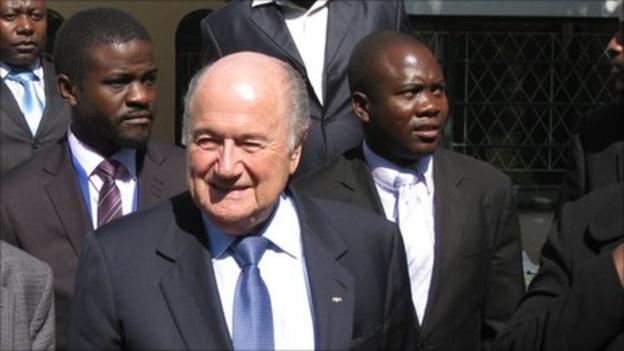 With many football fans across Africa eager for the continent to prove itself at the highest level, Fifa president Sepp Blatter believes that African teams can one day rule the world.
But the head of world football's governing body feels that African football federations need to give national coaches more time
He also added that that foreign coaches should be based in the nation that they are working for.
"In Africa you have so many talents in all countries, especially south of the Sahara. You have this talent that you don't find everywhere," he said.
"Sometimes you say in Brazil, but you have more talent than the Brazilians and your talent is not yet totally developed.
"But you need more patience and continuity in the organisation of your football.
"If you look at the six African teams at the 2010 World Cup, more than half of them changed their national coach in the last six months of preparations."
While not quite correct, Ivory Coast appointed Sven-Goran Eriksson three months ahead of the tournament, Lars Lagerback took over at Nigeria with four months left, Carlos Alberto Parreira returned to South Africa eight months before the competition, and Cameroon appointed Paul Le Guen with less than a year to go.
There has been a trend for foreign coaches of Africa's biggest national teams to remain based Europe, where the bulk of the squad is playing, but Blatter believes that this hinders the performance of the team.
"How can you feel the soul of a country if you are not living in the country? Even if most of your national team players are not living in the country you have to feel the soul of a country.
"When I was in Addis Ababa in 1976 I realised the soul of Africa and that's why I like Africa."
One of Blatter's first assignments at Fifa was development work in Addis Ababa at the time of the 1976 Africa Cup of Nations.
Blatter was speaking to the media in Harare on a one-day visit to the Zimbabwean capital on his way to Durban for an International Olympic Committee meeting.