Tottenham tell Luka Modric: You're not going anywhere
By Phil McNulty
Chief football writer
Last updated on .From the section Football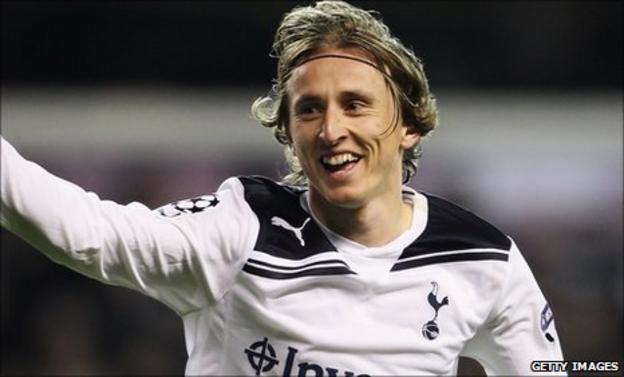 Tottenham's Luka Modric has been told by his chairman Daniel Levy that he is not up for sale.
The 25-year-old recently hinted he would welcome a move to Chelsea, who have had a £22m bid for him rejected.
Asked after his meeting with Modric what would happen if the Blues increased their bid, Levy told Sky Sports News: "It would make no difference.
"This is not about money, we're not selling our best players."
Before Modric flew to London for the talks, Croatian journalists asked him about Chelsea's interest.
"Anything is possible," he replied
But after their meeting Levy said: "Everything was fine, we had a very good conversation and - as I said previously - Luka Modric will not be sold.
"It's the end of it. As I said a few weeks ago, there's no further discussion on it. He was on holiday, we've now had the conversation and he understands our position. I'm sure once he's back with his team-mates everything will be fine."
While Chelsea and Manchester United retain their interest in him, Spurs' hard-line stance means the onus is now on Modric to either formally ask for a transfer or stay at White Hart Lane.
Spurs manager Harry Redknapp has supported Levy's insistence that Modric would not be sold, describing Chelsea's bid as "farcical".
Levy was infuriated that Chelsea's offer became public, saying prior to Wednesday's talks: "I wish to make it absolutely clear, as I have said previously, that none of our key players will be sold this summer.
"We are building a team for the future to consistently play at the highest level and retaining quality players is crucial to that.
"In respect of Luka Modric, we are not prepared to sell, at any price, to Chelsea or any other club. We made our stance on this issue abundantly clear in writing to Chelsea. They chose to ignore it and then subsequently made the offer public."
Modric, who joined Spurs from Dinamo Zabreb in 2008, signed a six-year contract in May 2010 and there have been suggestions that an improved deal could be on the table in an attempt to persuade him to stay at White Hart Lane.