Boris Johnson backs Tottenham over stadium funding plan
Last updated on .From the section Football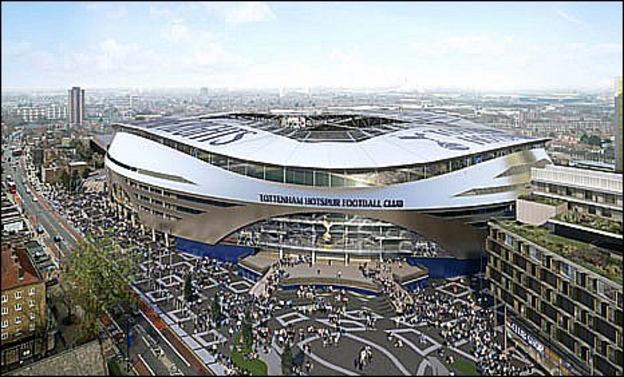 London mayor Boris Johnson has backed Tottenham's bid for public funding to help develop their plans for a new stadium at Northumberland Park.
Spurs insist any public cash would only be used for improving the local area.
"It has potential to inject investment in stadium-led regeneration in the heart of the community," Johnson said.
"This level of investment will safeguard existing jobs, create considerably more local employment opportunities as well as enhance the public realm and vibrancy of the whole of Tottenham," the mayor added.
Spurs had plans to develop the Northumberland Park site approved by the mayor in 2010 but escalating costs turned their focus towards taking over the Olympic stadium in Stratford.
Some fans staged a protest about the proposed move to east London, saying they wanted their club to remain in Tottenham.
The club have played at White Hart Lane since 1899.
And, after appearing unsuccessful in their appeal against the decision to hand over the Olympic stadium to West Ham, Spurs chairman Daniel Levy has confirmed that they are investigating the development of the new site behind the Paxton Road end of the White Hart Lane stadium.
Tottenham have now applied to the government's Regional Growth Fund for a grant to cover costs which would be associated with moving to Northumberland Park.
They include upgrading public transport and providing training and employment opportunities for local people.