Brazil beat Equatorial Guinea 3-0 at Women's World Cup
Last updated on .From the section Football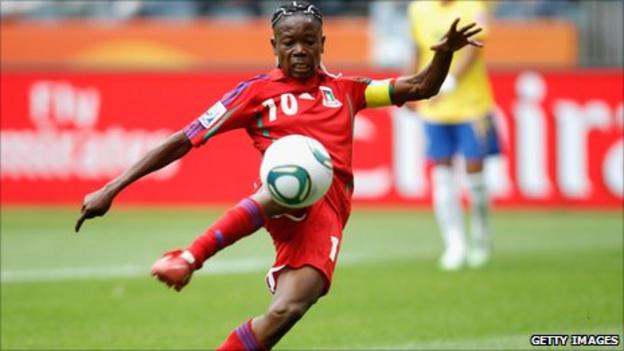 Equatorial Guinea were beaten 3-0 by Brazil in their final game at the Women's World Cup in Germany.
It was 0-0 at half-time but goals from Erika and Christiane just after the break put Brazil in front and a late penalty completed their win.
In the other game in the group Australia beat Norway 2-1 to secure a place in the knock-out stages.
Despite the result it was another strong performance from Equatorial Guinea, who have won many friends during their campaign.
The first half was an even affair with Brazil's five-time World Player of the Year, Marta, ably marshalled by the Africans' defence.
Equatorial Guinea captain Anonman was again their stand-out player - but she was not able to take the chances she created for herself.
After the break, the South Americans found another gear and a magnificent strike from Erika put them in front.
She controlled the ball in the box with her chest, flicked it up with her right foot and buried a volley with her left, to give Brazil the lead.
The second came shortly after that, when Christiane took advantage of loose defending to turn the ball in from close range.
She converted a late penalty to make it 3-0, a scoreline Equatorial Guinea did not deserve.
They go home without having registered a point, but the manner with which they took on their task means they will be remembered for their contribution to the tournament.