Shamrock Rovers fans cancel Derry buses over security
Last updated on .From the section Football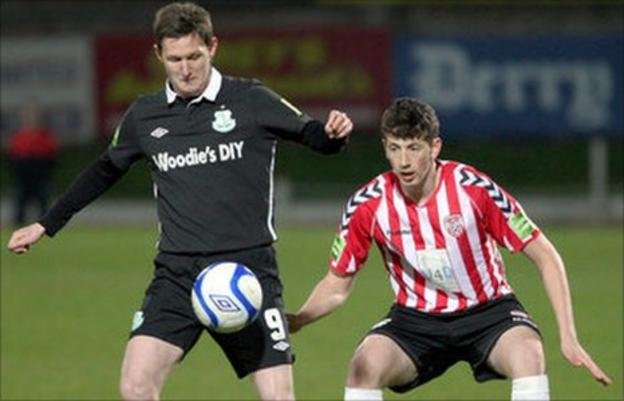 A number of buses scheduled to carry Shamrock Rovers fans to Friday's away game against Derry City have been cancelled because of security fears.
Rovers supporters announced the move after alleging that buses were stoned after previous games at the Brandywell.
Derry City director Tony O'Doherty said that he regretted the decision of the Rovers fans.
The PSNI do not provide security in and around the Brandywell during games at the Derry City venue.
The Rovers fans group alleged that there were "several clearly premeditated attacks in the recent past on Shamrock Rovers buses in and around the Brandywell, which remain a no-go area for the local police".
Derry director O'Doherty said that measures had been planned to ensure the safety of Rovers fans at Friday's game.
"The attacks occurred outside the ground and they were carried out by children," Mr O'Doherty told RTE.
"I don't want to minimise this in any way because first of all I want to apologise to any Rovers fan and indeed the owners of the buses but it did happen outside the ground.
"No League of Ireland club has jurisdiction for outside its ground.
"However, we recognise the special situation of The Brandywell.
"In recent games, such as the Bohemians game, our stewards stayed on and made sure there was clear and safe exit and that was offered.
"Unfortunately I think the Rovers guys had already made up their minds on this. It is regrettable and I'm extremely sorry they have taken this stance."
O'Doherty added:"If Shamrock Rovers decide they need a police escort to come to the ground that is entirely up to Shamrock Rovers.
"One situation has been taken here and used to make something that is not true overall.
"The vast, vast majority of visiting fans come to the Brandywell and never have the slightest problem."
Last month, Derry player Eamon Zayed alleged that he was the target of a racist comment during a game against Rovers in Dublin and a Football Association of Ireland investigation is taking place.