Luka Modric 'will not submit Spurs transfer request'
Last updated on .From the section Football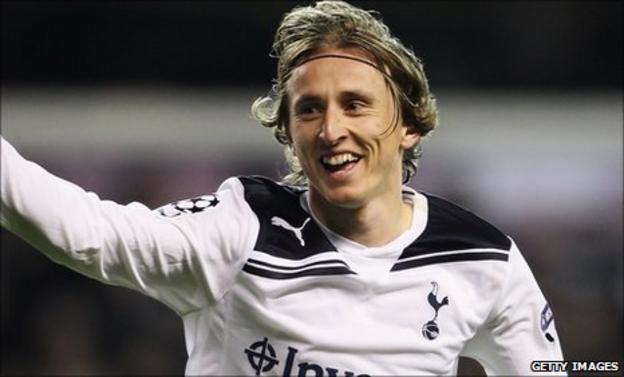 Luka Modric has no plans to hand in a transfer request at Tottenham, according to his agent Nikky Vuksan.
The Croatia international, 25, hinted he would like to join Chelsea but Spurs chairman Daniel Levy is adamant the midfielder cannot leave the club.
Vuksan told BBC Sport: "I don't think he'll hand in a transfer request. He will honour his contract.
"He wants to play Champions League and win trophies. The only way we can resolve this is to sit down and talk."
He added: "Luka will report today for training and will do his best, as always."
Earlier in the summer, Modric was the subject of a £22m bid from Chelsea, which was rejected by Spurs.
Modric met Levy on Wednesday and Spurs' chairman revealed he had made it clear that the player would not be allowed to leave the club.
"That's the end of it," Levy said. "As I said a few weeks ago there's no further discussion. He was on holiday so we've now had the conversation and he understands our position."
Vuksan insisted he wanted to avoid any acrimony with Tottenham though.
"I have never been in a situation before where a player has had to fight a club and it's not something we want to do," he said. "The only official offer so far is from Chelsea and we haven't talked to any clubs.
"It's no surprise that there is interest in Luka though, because he is a top, top player."
Modric joined the London club in a £16.6m deal from Dinamo Zagreb in 2008. He quickly established himself as a key figure, helping them to qualify for the Champions League in his second season at the club.
Modric signed a new six-year deal at the club only last year, with manager Harry Redknapp describing him as "irreplaceable".
Redknapp has been pleased with his player's demeanour as he joined his team-mates for pre-season training today but concedes it is tough for him.
"He's walked in today and is happy, but the kid's a bit confused at the moment. Other teams want him but we want him here and I want to keep him," Redknapp said.
"He loves playing here. It's a difficult situation for him and I understand where he's coming from. We can't kid ourselves.
"He signed a contract here, we love him here and want him here. We don't want to sell our best players. He's a special player for us."