Squad has time to impress - Carlisle boss Greg Abbott
Last updated on .From the section Football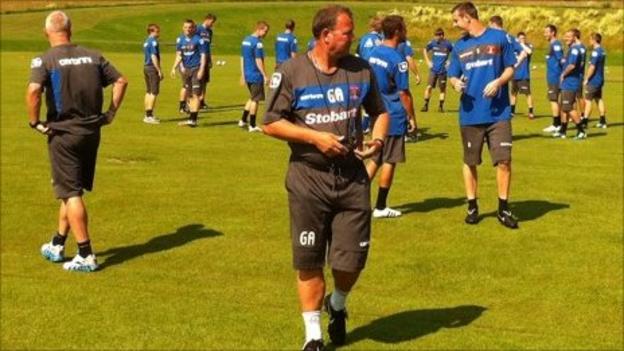 Carlisle United boss Greg Abbott will hand his current squad the chance to impress during pre-season before making further moves in the transfer market.
"I'm chuffed to bits at the minute, so we'll work with the players we've got," Abbott told BBC Radio Cumbria.
"If we think we need to do something else, then we'll do that."
"I'm looking at everybody in pre-season, and if people aren't performing, then what we have to do is make sure that come the start of the season the team is in shape to win games.
"The whole team is under scrutiny."
Meanwhile Abbott has confirmed Graham Kavanagh will continue to play an important role with the coaching staff at Brunton Park next season.
The 37-year-old, who combined assistant manager duties with a playing role last season, was restricted to a solitary substitute appearance in 2010-11.
"I've spoken to Graham, it would be stupid for me to throw that ability to one side and forget about it, but this job is a two-three man job at times and I need Kav," said Abbott.
"We're small in the staffing areas, but the backroom staff work very hard, and I've said we need to get on the training ground together, mix the work up, share the workload.
"There's a lot to do as a manager, it's not just the training, there's the transfers, press, there's all sorts to deal with.
"I need his help on here, and he's going to do that, but you never know, in a crisis if he's fit - which he will be - if we have to use him then we'll look at that."