The PSNI rejects hooligan claims surrounding Brandywell
Last updated on .From the section Football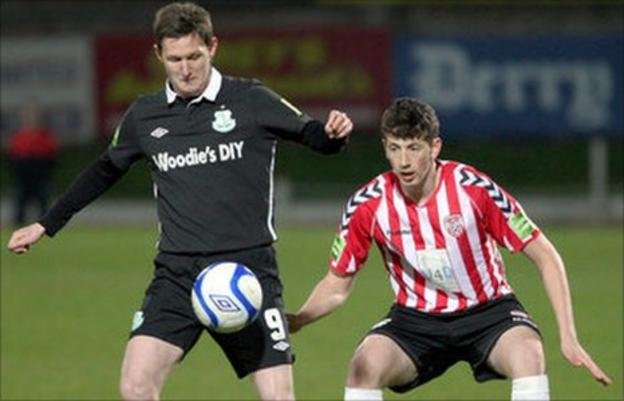 The PSNI has said that there are "no hooligan issues associated with Derry City" after a number of Shamrock Rovers fans cancelled buses to Friday's game at the Brandywell over security fears.
Rovers supporters announced the move after alleging that buses were stoned after previous games at the Brandywell.
However, a PSNI statement said that there had been "no significant disorder in recent years".
"The PSNI has an operational presence at significant football matches."
The PSNI statement added: "We have a strong relationship with Derry City Football Club and have an arrangement in place that allows stewards to safely manage football matches within the stadium.
"The PSNI has close contact with both the local council and the club in relation to all aspects of event planning, indeed it is in our mind right and proper that DCFC has primacy in managing and stewarding its own football matches.
"This system works very well...and ensures the safety of visiting football supporters and where appropriate can escort buses and prevent incident like stoning.
"It is important to note that the PSNI have no intelligence at this stage to suggest there would be any threat against visiting fans or their buses.
"It is important to note that the PSNI can enter the football stadium and has plans in place that allow us to do so in an emergency situation.
"To date we have not had any contact from the Shamrock Rovers club expressing their concerns and we would be happy to discuss them if they would like to contact us at Strand Road police station."
Derry City director Tony O'Doherty said on Wednesday that he regretted the decision of the Rovers fans.
The Rovers fans group alleged that there were "several clearly premeditated attacks in the recent past on Shamrock Rovers buses in and around the Brandywell, which remain a no-go area for the local police".
Derry director O'Doherty said that measures had been planned to ensure the safety of Rovers fans at Friday's game.
"The attacks occurred outside the ground and they were carried out by children," Mr O'Doherty told RTE.
"I don't want to minimise this in any way because first of all I want to apologise to any Rovers fan and indeed the owners of the buses but it did happen outside the ground.
"In recent games, such as the Bohemians game, our stewards stayed on and made sure there was clear and safe exit and that was offered.
"Unfortunately I think the Rovers guys had already made up their minds on this. It is regrettable and I'm extremely sorry they have taken this stance."