Women's World Cup comes of age in Germany
By Alistair Magowan
BBC Sport in Germany
Last updated on .From the section Women's Football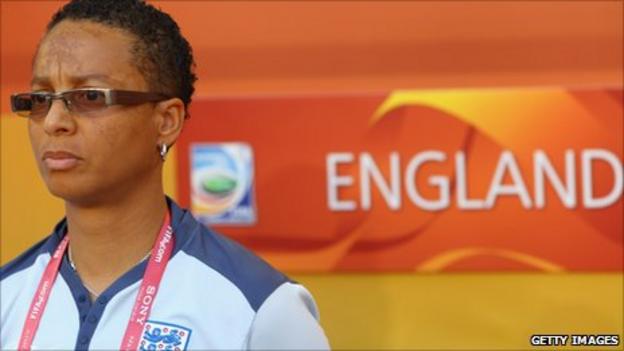 A bizarre handball decision aside, the Women's World Cup in Germany is proving a big hit thanks to some slick organisation, impressive attendances, record television viewing figures and a harmony on the pitch rarely seen in the men's game.
The standard of play and competitiveness of matches have improved since the last World Cup in 2007.
Four years ago in China, Germany crushed Argentina 11-0. This time around, the biggest victories have been the 4-0 wins recorded by France and Japan over Canada and Mexico respectively, with two-thirds of the group games decided by a single-goal margin or less.
Of course, there has been a dose of controversy, which is healthy for any major tournament.
Equatorial Guinea, who at 61st in the world are easily the lowest ranked team in the tournament, grabbed the headlines with some fierce tackling during their 3-2 loss to Australia, while Hungarian referee Gyoengyi Gaal failed to spot a blatant handball by Guinea defender Bruna in the same match. Bruna caught the ball in her own penalty area but somehow escaped detection.
There was also oNorth Korea's coach blaming defeat by the United States on the fact that several of his players had been struck by lightning in the build-up to the tournament.
But I digress. The Women's World Cup is thriving. Nearly 72,000 fans packed the Olympic Stadium in Berlin for Germany's opening game against Canada, while the hosts' group decider against France in Moenchengladbach attracted nearly 46,000 supporters.
As for those impressive TV figures, 16.6m watched Germany's second group game against Nigeria - a record for a women's World Cup match outside of the United States and China.
With 700,000 tickets sold before the start of the tournament and an average attendance of just under 25,000, this World Cup is on course to be one of the best attended yet.
The problem, at least for the host nation, is that such popularity has led to significant pressure on the German national side.
Aiming to become the first team to win three World Cups in a row, to sit alongside the five consecutive European Championships they have won, Germany were only able to record narrow wins in their opening two group games, prompting criticism from the local media.
That early gloom seemed to evaporate when they beat France 4-2 to top Group A, a victory managed without record scorer and captain Birgit Prinz, who sat glumly on the bench for the duration of the match after being dropped.
Germany will face Japan in the quarter-finals on Saturday having avoided a match against England, who have gathered real momentum after beating Japan 2-0 in their final group game.
And what about England? Well, their three matches have been well attended, too, boasting an average crowd of 19,500, while about four million viewers have watched each England game on German TV.
There is no doubt that the majority of spectators at England's matches have been supporting the opposition but there are pockets of fans, including Germans, who have adopted England coach Hope Powell and her side as their own.
"It's been a brilliant World Cup so far," England supporter Calum Wilson said. "It's really well organised, very entertaining and the fans and the stadiums have been excellent. Sometimes following the England men's team, there can be tension or trouble, but it's a bit friendlier here and there is more togetherness."
Fellow England supporter James Watts added: "There is a special buzz around each stadium. There are different cultures and everyone is supporting each other. It makes for a good atmosphere."
England made a slow start to the tournament, drawing with Mexico and needed a late winner to beat New Zealand. But, thanks to victory over Japan, who are fourth in Fifa's rankings, Powell's side earned a last-eight clash with France and fancy their chances of reaching the semi-finals.
Powell felt that her players may have been weighed down by expectation at first but she has said that she is enjoying the challenge of guiding them to the latter stages of the competition.
She is also savouring the camaraderie. Teams have been sharing hotels and generally mingling a lot more than in the men's game. England and Japan watched the France v Germany game together in their hotel lobby in Augsburg.
The England boss also believes the women's game is benefitting from having more women as international managers.
"One thing is for sure, we all get on," reflected Powell, one of five women leading teams in Germany.
"There is no touchline drama. I know Germany boss Silva Neid very well. Canada coach Carolina Morace is also a good friend.
"Everybody wants to do well but it is a game that we all love and we like to share ideas and talk about it. It's great there are female coaches here doing a fantastic job and it would be nice to see more in the future."
Elsewhere in the tournament, the top-ranked United States had to settle for second place in their group after defeat by Sweden and will face Marta's Brazil in the quarter-finals - Marta is widely considered to be the best player in the world and appears unstoppable at times.
As for Norway, who won Olympic gold in 2000 and were World Cup semi-finalists in 2007, they are out of the competition after losing to Brazil and Australia.
That shock aside, there is already clear evidence that the women's game is making progress.
The question now is whether that is followed by a big breakthrough - and, for England, that depends on how far they get.