I'm not distracted by music - Asamoah Gyan
By Michael Oti Adjei
BBC Sport, Accra
Last updated on .From the section Football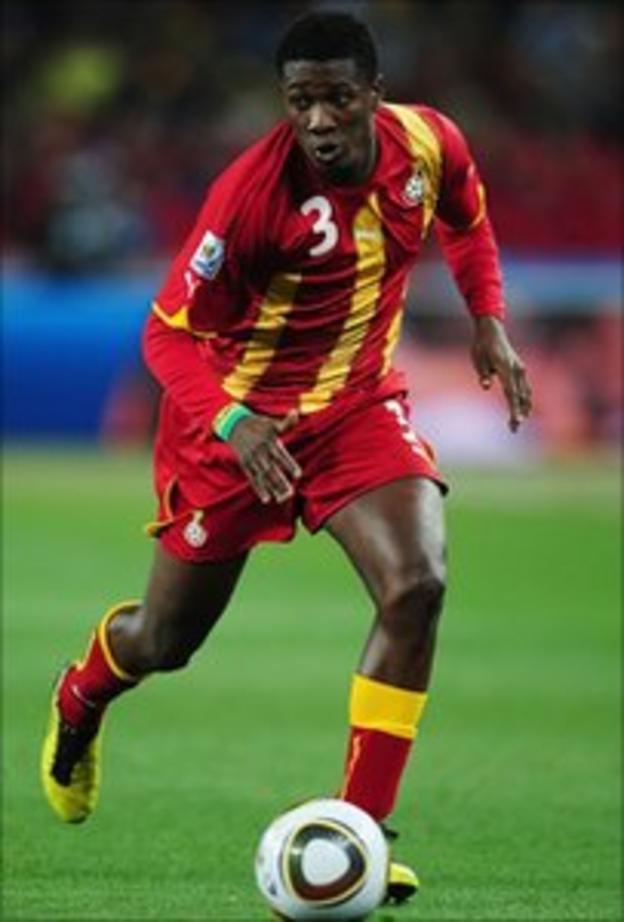 Asamoah Gyan has dismissed fears that his love of music will damage his chances of success in football.
The Sunderland and Ghana striker is heavily involved on the local music scene in his country, featuring in a number of hit songs.
"Many European players play golf in their leisure time," said Gyan. "I choose to record music."
His latest duet with musician Castro - 'Do the Dance' - is climbing up the music charts.
An earlier offering from the duo, called 'African Girls', is the song of choice for many in Ghana.
Last Friday, Gyan appeared at a music show in Accra featuring Ghanaian and Nigerian artists.
Despite his relative success as a recording artist, two former Black Stars strikers are concerned that Gyan's musical interest might affect his concentration on the job at hand.
Former Leeds United and Hamburg goal machine Anthony Yeboah is one of several people in Ghana worried by the impact of Gyan's music on his football.
Yeboah has gone on record telling the 2010 BBC African Footballer of the Year to "put the music aside and concentrate on the football."
And that call has been echoed by former Ghana international Felix Aboagye.
"It's important for him to understand that if he wants to get to the top, he must stop the music and concentrate on the game," Aboagye said.
"He may get confused at a point as to what he really wants to do. He should choose the game because music can distract him," he added.
But Gyan has dismissed the fears, saying he is perfectly capable of playing football and moonlighting as a musician.
He said: "I love music but it doesn't mean I'm not focused on the football."
"I'm very, very focused because football made me who I am today."
Gyan told BBC Sport that he will not allow his work ethic to slip because winning trophies with club and country remains his ultimate aim.
"I can't play jokes with my job because if you joke with your job, your job will joke with you. I'm not a musician but I love music.