Women's World Cup: England have reasons for regret
By Alistair Magowan
BBC Sport in Leverkusen
Last updated on .From the section Football
The emotional attachment between a coach and a player can be both a blessing and a curse in the world of sport.
Having players who do not want to let their manager down can drive them on to greater heights, but the trust forged through a whole range of experiences can also lead to a clouding of judgement.
Football is littered with examples of managers picking their favourite players when they are not at their best, based on the belief that no matter what the problem, they will prove their value once again.
Perhaps England coach Hope Powell will reflect on similar thoughts after her team were knocked out of the World Cup at the quarter-final stage on Saturday, losing 4-3 to France on penalties after extra time ended with the scores level at 1-1.
The manner of the defeat was all too familiar for the English, and was hard on them after they had showed superb resilience to push Bruno Bini's team all the way.
But the fact England were effectively competing with 10 players by that stage because of Kelly Smith's ankle injury - and they started the game with two others short of full fitness - gives rise to the nagging feeling that things might have been different.
It was all the more disappointing since England produced an impressive comeback against New Zealand in the group stages, and then recorded a 2-0 victory over Japan, the world's fourth-ranked team.
In that match, Powell's side looked composed and energetic for long periods.
The result against the Japanese now appears even more impressive - they knocked out World Cup holders and hosts Germany later on Saturday night.
England centre-back Sophie Bradley and midfielder Anita Asante both excelled against Japan but were left out of the starting line-up for the quarter-final.
Their performances in the final group match had added weight to Powell's assertion that she had a squad - not just a first XI - capable of competing with the best.
But when it came to it, captain Faye White and midfielder Fara Williams, who had both only recently returned from knee injuries, were restored to the side.
And with Smith struggling with her ankle problem, England's spine looked fragile as the match wore on.
As Powell said afterwards, France are worthy semi-finalists. And in Louisa Necib and Gaetane Thiney, they had two players capable of individual moments of brilliance.
It should be mentioned that, once again, England defended stoutly, with White having her best game of the tournament.
But the way in which England gave the ball away and struggled to pick up the French pair represented a step backwards after their display in their final group game.
Powell, who is a meticulous planner, said afterwards: "France rumbled us, they didn't let us settle. We had a game plan but we didn't implement it.
"It didn't click as well as we wanted it to, and in the second half we performed better. I'm very proud, we worked hard to get ourselves back in it and we were so close."
After England topped their group, there was a growing confidence among the squad that reaching the World Cup semi-finals for the first time was achievable.
Nearly all of Powell's judgements proved correct at this tournament and she continually highlighted her tactic of picking the team she felt best suited to beating the opposition, no matter what changes that required.
In the build-up to the quarter-final, there was speculation she might cast aside previous allegiances and stick with a winning team.
That would have been tough, particularly on Smith, but the striker had admitted to being below her best.
The 32-year-old, who was replaced against the Japanese, has been England's brightest star for the last decade, with Powell playing a significant part in helping her through alcohol problems in the past.
And the way the coach enthused afterwards about White - her captain - also spoke of the relationship they forged during their 13 years together for England.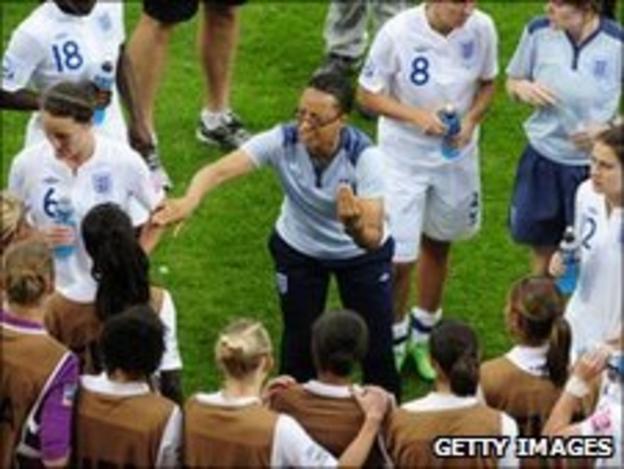 White, 33, is likely to have played her last major tournament. She made her debut in 1997 and has served her country with distinction. Missing the crucial penalty in Leverkusen would be a sad way to end her international career.
"Faye was upset. I said to her she has had a magnificent career," Powell said. "She has dealt with adversity tremendously. She's has loads of injuries and was injured before she got here.
"She's a magnificent leader and it showed real character that she was brave enough to step up and take a penalty. Faye said 'right, if no-one else wants to do it I will do it' and I'm proud of the fact she had guts and nerve to try to get England to a semi-final."
This tournament could come as something of a watershed for the England women's team, with Powell admitting she may take up a more developmental position within the Football Association. White and Smith are also coming towards the end of their careers.
Yet the appeal of the London Olympics in 2012 may offer all three an opportunity to gain a more tangible reward for their services to England.
And if White and Smith can avoid injury, it could also give them the chance to seal their collective bond in a more joyous manner.