Dundee United prepare to meet old foes, Slask Wroclaw
By Jim Spence
BBC Scotland
Last updated on .From the section Football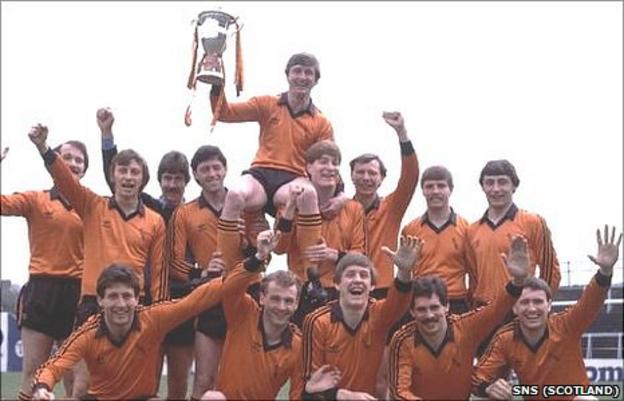 Dundee United this week enter the European arena once again where they will meet a team against whom they once recorded a famous victory.
Slask Wroclaw were beaten 7-2 on aggregate by the Tangerines in a 1980 Uefa Cup tie with all of those goals coming in the second leg at Tannadice.
And as the two sides prepare to meet again 31 years later, there are familiar faces in both ranks.
Orest Lenczyk was the coach of Slask in 1980 and is currently in his second spell in charge of the Polish club.
One of United's scorers in the 7-2 rout was Paul Hegarty, now a coach with the Tayside club.
At the club's training base at St Andrews, Hegarty reflected on the matches between rampant United and the team from behind the Iron Curtain.
"It was around the time of Solidarity and Lech Walesa. There were a lot of queues for potatoes and bread and petrol. It was a tough place to go," Hegarty, 56, told BBC Scotland.
"To win in Europe at the best of times is smashing, but to win in such emphatic style was fantastic.
"We actually did things like that quite frequently. We beat Monaco 5-2 away from home, we beat Winterslag by five at home, Borussia Monchengladbach 5-0 [all in season 1981/82]. So we were quite adept at winning games emphatically.
"Ironically, I was speaking to the manager when I was over in Slovenia watching them. They had the same manager, 30-odd years on.
"Right after our game he got the sack because the result didn't go to plan."
Hegarty entered season 1979/80 as Scotland's player of the year and captained a team full of Scottish talent, led by ambitious manager Jim McLean.
The bulk of players in the squad to face the Poles in 1980 helped the team clinch the Scottish Premier Division in 1982/83.
"Guys like Frank Kopel and Hamish McAlpine were the mainstay of the club at the time. Myself and David Narey followed through along with Paul Sturrock and Maurice Malpas," he added.
After eliminating Slask Wroclaw from the competition, United went out on the away goals rule to Belgian side Lokeren in the next round, the Terrors unable to better a 1-1 result at Tannadice.
But as the team gained experience in Continental competition, their European sojourns in the 1980s extended to the latter stages of tournaments, with a 3-2 European Cup semi-final defeat by Roma and a Uefa Cup final defeat in 1987 to Gothenburg notable achievements.
In recent years, though, neither Slask nor United have had much exposure outside their own countries. The Polish side have not featured in Europe since 1987 and United's 2010 aggregate defeat to AEK Athens was their first European tie in several years.
It is a measure of their current Uefa standing that when United play Slask Wroclaw on Thursday at the Stadion Oporowska, it will be in the second qualifying round, still some way from the group stage of the Europa League.
"It's hard now," said Hegarty, who made more than 700 appearances for the Tannadice first team.
"They're a good side. I saw them two weeks ago against Dinamo Zagreb and they won comfortably 2-1 against them.
"They've got a strong squad. In the game I saw they changed the team in the second half. The only player who played both halves was the goalkeeper.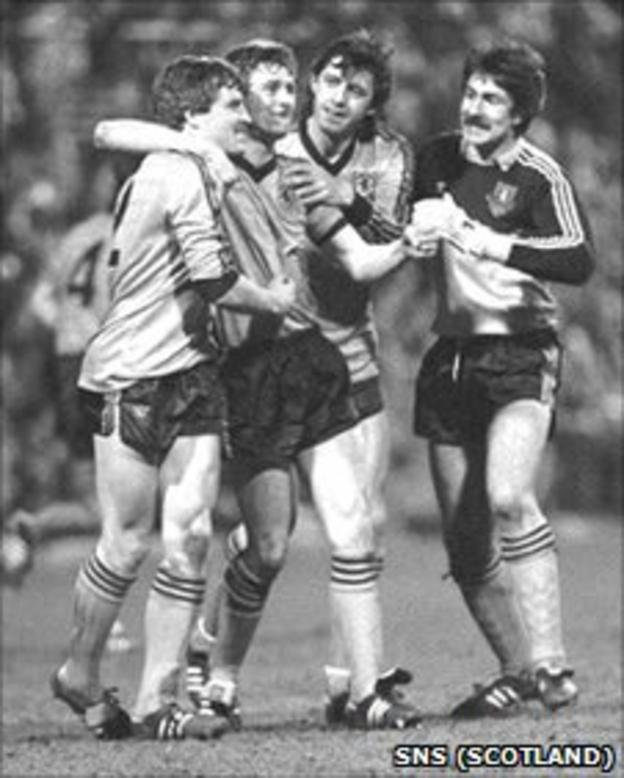 "They played a pressing game - very much like we do in Scotland, but Polish football is on the up and up. They've got the Euro Championships next year and they're gearing themselves up for that.
"They finished second in the league so they are a good side. It just so happens that we've got one of the tougher ties."
Hegarty, however, senses an enthusiasm in the squad for the task - one that will be completed before the Scottish Premier League campaign begins.
"The players are buoyant, they've worked extremely hard over the last three-and-a-half weeks and they're looking forward to the game in Poland," he said.
"But I think the experience last year of playing against AEK Athens will stand us in good stead."
United manager Peter Houston believes Polish opposition demand respect.
He said: "They're very good. They're very comfortable on the ball, they're physically strong and they tackle well, but they also play good football as well.
"With us being a seeded team and them being an unseeded team this is probably the hardest fixture we could have picked but it is something we look forward to."