Arsenal's Nasri unlikely to join us - Sir Alex Ferguson
Last updated on .From the section Football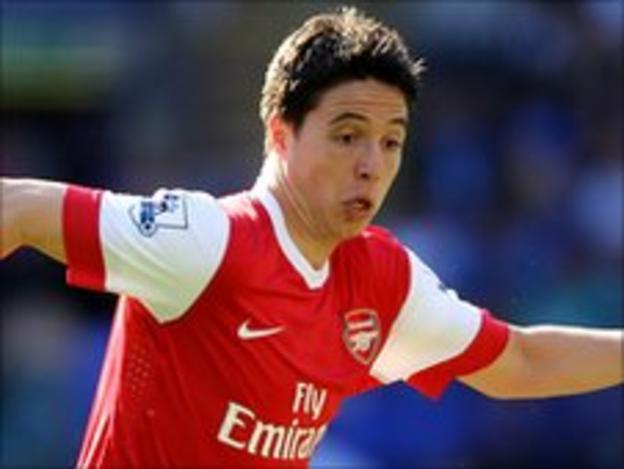 Sir Alex Ferguson has claimed that Samir Nasri has agreed to leave Arsenal - but that the French midfielder will probably not join Manchester United.
Nasri, 24, has been linked with a move to Old Trafford, with the Gunners reportedly turning down a £20m bid from the Premier League champions.
"I don't think he is coming to United," said manager Ferguson, speaking at the start of his side's United States tour.
"That is all I can tell you. I think he has agreed to go somewhere else."
With Paul Scholes having retired in May, Ferguson is on the look-out for a replacement, with Inter Milan's Wesley Sneijder and Tottenham's Luka Modric also linked with a move to Manchester.
Nasri has also been tipped as a possible target for United as well as Manchester City, although Arsenal manager Arsene Wenger indicates he may keep the player for the final year of his contract - and thus risk losing him for nothing in a year's time.
"That is his decision," said Ferguson, when asked what he thought of Wenger's stance. "He is the manager.
"If he stands by that decision, it is a brave one. I don't know if the [Arsenal] directors will enjoy that one but it is possible. Maybe he will have to stay."
Ferguson's comments came after Wenger insisted Arsenal were doing all they could to do to keep both Nasri and captain Cesc Fabregas, who has been the subject of a £27m bid from Barcelona.
"Samir's situation is clear for me - he stays," Wenger told reporters in Malaysia ahead of the club's pre-season tour to Asia. "I've told you that we are in a position where we can say 'no'. And we will."
Wenger added that Arsenal could not afford to lose both Nasri and Fabregas this summer.
"Imagine the worst situation - we lose Fabregas and Nasri," said the Arsenal manager. "You cannot convince people you are ambitious after that. You cannot pretend you are a big club.
"A big club holds onto its big players and gives a message out to all the other big clubs that they just cannot come in and take [players] away from you.
"We worked very hard with these players for years to develop them and now it's time for us to keep them together."
Despite the rumours surrounding Fabregas and Nasri, Arsenal and England midfielder Theo Walcott is fully behind Arsene Wenger and is optimistic for the season ahead.
"The boss will see what the players have got in pre-season matches and see what they have got to offer this season," Walcott told Sky Sports News.
"The boss knows what he's doing, he's done it year after year. Us players need to go on and win something, because it's been a long time.
"You want to keep your best players and attract players as well. Only time will tell what's going to happen.
"But it's important to keep all of our best players and it's important for players to come in as well," Walcott added.