Plymouth Argyle squad still not paid their full wages
Last updated on .From the section Football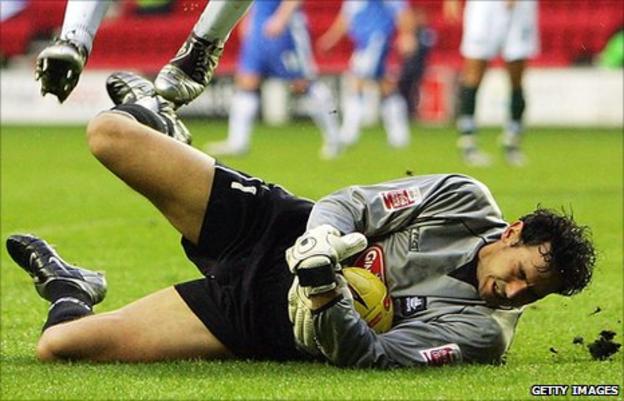 Plymouth Argyle's players have had to defer payment of their wages for an eighth successive month.
Argyle's squad have not been paid in full since the club went into administration last year.
"We left in May thinking that it was probably going to be a much more sorted place once we came back," goalkeeper Romain Larrieu told BBC Radio Devon.
"We are still in trouble. Hopefully we can't be far from the end of the tunnel now," he added.
Larrieu, who celebrates his testimonial year at Argyle, says the squad will sign the papers to defer their wages later this week.
The Professional Footballers Association criticised the club's handling of the issue last week, following the sacking of midfielder Kari Arnason, who refused to take a pay cut.
And Larrieu says the financial problems faced by the squad have forced some players to move in together in order to pay the bills.
"That's not something that you want - it's unsettling and you want your squad to be settled before the start of the season," the Argyle keeper added.
"But I know that behind the scenes people are working tirelessly to make the club a better place and I do believe it's going to happen. "
And Larrieu, the club's longest-serving player, revealed that there had been times when he had considered leaving Home Park.
"There has been moments where there's been opportunities.
"I've not been playing as much as I would have thought over the past 18 months so you always look at 'could I play somewhere'."
But Larrieu, who made his debut for Argyle in December 2000 and has played more than 300 times for the club, decided to stay put.
He celebrates his testimonial in a game against Queens Park Rangers on Wednesday 20 July at Home Park.