Robin van Persie calls for new signings at Arsenal
Last updated on .From the section Football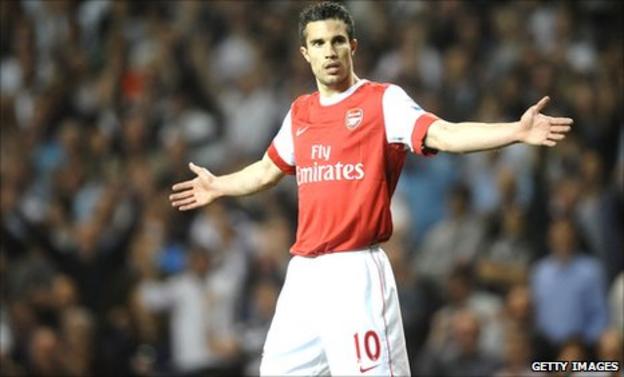 Robin van Persie believes Arsenal must sign "quality players" to keep pace with their Premier League rivals.
Trophyless since 2005, Arsenal have so far brought in Lille forward Gervinho and Charlton defender Carl Jenkinson.
"New signings are more than welcome," said striker Van Persie. "Every other team is buying quality players so hopefully we will do the same.
"I think so [you need to invest to keep up]. If everyone is doing something you need to do it as well."
He added: "Manchester City are buying loads of good players, Liverpool are doing it now and Manchester United have been doing it for years."
Van Persie joined Arsenal shortly after they won the Premier League title in 2004 and was part of the side that beat Manchester United to lift the FA Cup a year later.
The Gunners have finished every subsequent season empty handed, despite reaching the Champions League final in 2006 and League Cup finals in 2007 and 2011.
Arsenal went into February's Carling Cup final against Birmingham as overwhelming favourites, but a horrendous late mix-up between goalkeeper Wojciech Szczesny and centre-back Laurent Koscielny gifted the Blues a 2-1 victory.
Van Persie feels it is imperative that the team end their wait for silverware in the forthcoming campaign.
"The very least for us is to win something," stated the Netherlands international. "It doesn't really matter what it is.
"We made the final a couple of times and went to the semis a couple of times, so it's time to win something now. Hopefully we can achieve that this year.
"Maybe we can focus more on the stage of February onwards, that's where it went wrong over the last couple of years. Maybe we can focus on that period.
"Most of our players will be fresh from now until the start of January. When you want to win things, the season actually starts at the end of February. That's when we need to play better or do things a little bit differently."
While Arsenal manager Arsenal Wenger looks to reinforce his squad for the new season, he is also battling to keep hold of captain Cesc Fabregas and fellow midfielder Samir Nasri.
Van Persie has developed a superb understanding with Fabregas in the seven years they have been at the club together, and he wants to see the Spaniard stay.
"I think it will be hard [for me if he goes]," admitted the 27-year-old, who scored 22 goals last season. "He is the first one I look at if he is playing or not.
"We have a connection together, he knows exactly when to pass, when to make his decisions. In his mind, he is quicker than most other players and that is very special.
"He will be a miss for any team, that's why I hope that he stays and we can play a bit longer together."