Midlands nostalgia as former players take to the pitch
Last updated on .From the section Football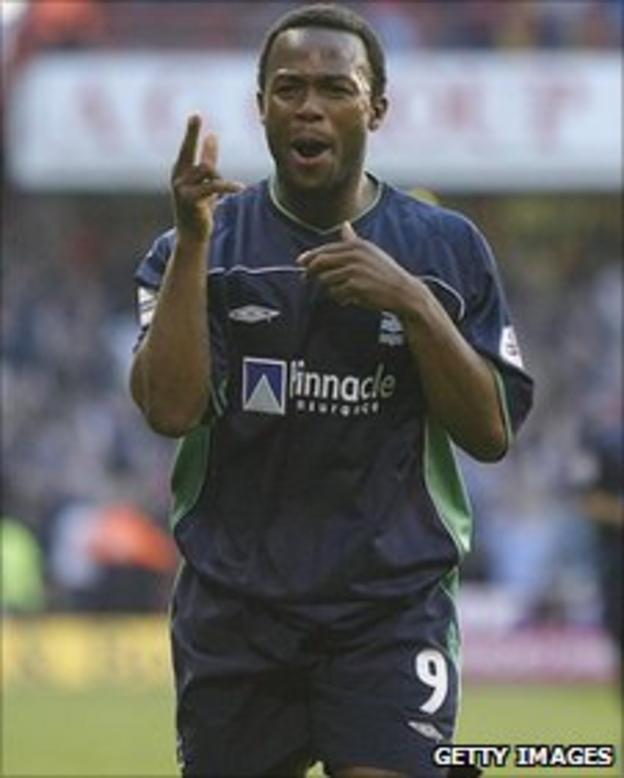 Former Nottingham Forest, Notts County, Derby, Leicester, Peterborough and Stoke players will do battle this weekend in the Central Masters Cup.
Forest won the regional group last season and were tournament winners in the inaugural year back in 2000.
Former Forest striker David Johnson will be one of the players involved and he told BBC Sport: "I can't wait to pull on a Forest shirt again."
The Central Masters takes place at the Nottingham Arena on Saturday, 16 July.
Johnson added: "It will be great to play with some top players from the club's history.
"I had five-and-a-half thrilling years with Forest and have so many happy memories from my time at the City Ground.
"I am also looking forward to renewing the rivalry with Derby and Leicester - it should make for a great atmosphere.
"We will be taking it seriously and there is a lot to live up to, with last year's side winning the event."
Derby will be captained by Dean Sturridge, while Leicester's front line will be led by Iwan Roberts.
Notts County supporters will get to witness Tommy Johnson in a Magpies shirt again, Peterborough fans will see Posh legend Ken Charlery in action, while Stoke's line-up includes goalkeeper Carl Muggleton and Graham Kavanagh.
SQUAD LISTS
Derby County: Kevin Poole, Marc Edworthy, Michael Johnson, Gary Rowett, Shane Nicholson, Inigo Idiakez, Dean Sturridge (c), Phil Gee.
Leicester City: Dale Belford, Paul Groves, David Oldfield (c), Lee Philpott, Jamie Lawrence, Steve Walsh, Barry Hayles, Iwan Roberts.
Nottingham Forest: Mark Crossley, Steve Chettle, Des Lyttle, Justin Walker, Eion Jess, Nigel Jemson (c), David Johnson, Steve Guinan.
Notts County: Steve Cherry, Ian Richardson, Alan Paris, Andy Legg (c), Shaun Murray, Ian Barraclough, Tommy Johnson, Richard Dryden.
Peterborough United: Kevin Shoemake, Dave Farrell (c), Richard Scott, Darren Clarke, Simon Rea, Marcus Ebdon, Chris Plummer, Ken Charlery.
Stoke City: Carl Muggleton, Neil Mackenzie, Ally Pickering, Graham Kavanagh, Jason Kavanagh, Andy Cooke, Wayne Biggins (c), Martin Carruthers.