Everton Ladies' midfielder Fara Williams out for five weeks
Last updated on .From the section Football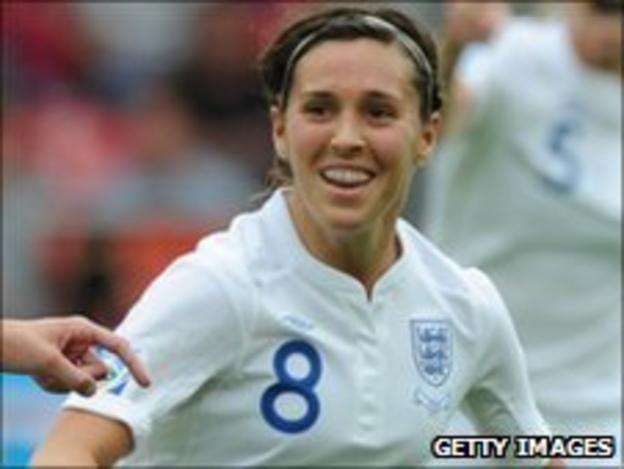 Everton midfielder Fara Williams will be out of action for five weeks after suffering a thigh injury in England's World Cup quarter-final exit to France.
She told BBC Radio Merseyside: "After five weeks I'll be back playing.
"I've been told to rest and not do anything for a few weeks and try and get myself back. Whether I play in the next five weeks is very unlikely."
Williams added: "Going in to the tournament off the back of an injury and rushing to get myself back fit, it was a case of other muscles around the knee compensating for the knee.
"I then picked up a knock on my quad and found it difficult in the final game. I'd never not want to play for England, injury or not, I'll play if I'm called upon, which I did."
There were high expectations before the tournament that England could reach the semi-finals in Germany, but the 4-3 defeat on penalties to France in the quarter-finals ended their hopes.
Despite the set-back, Williams remains positive about the overall campaign.
"It's definitely a positive getting to the quarter-finals of a World Cup," Williams continued.
"The performance [in the win] against Japan was definitely a positive as was the fighting spirit we showed to come back in the New Zealand game, after coming from a goal down.
"The people who were probably on their last legs in the quarter-finals and lasting 120 minutes is certainly also a positive.
"A penalty shoot-out is pot-luck and at the end of the day, someone has to lose on penalties. Unfortunately it was us."