Liverpool's Ian Ayre questions Manchester City-Etihad deal
Last updated on .From the section Football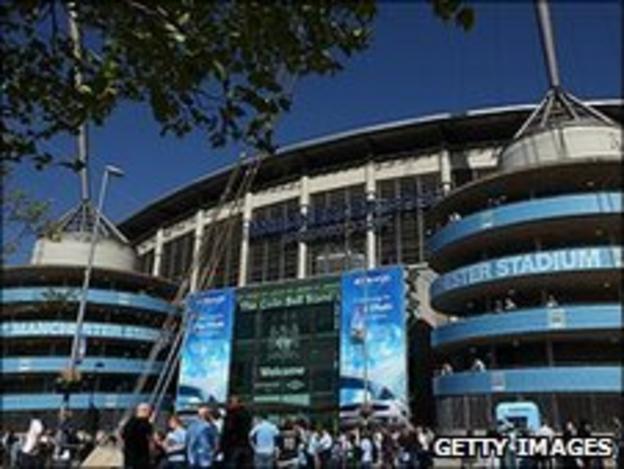 Liverpool managing director Ian Ayre has joined Arsenal in questioning Manchester City's £400m sponsorship deal with Etihad Airlines.
Concerns have been raised that the deal has been inflated to help City meet Uefa's financial fair play rules.
"Are Etihad, City and Sheikh Mansour related parties? If they are, it's up to Uefa to rule on them," said Ayre.
The FA Cup winners' contract with Etihad includes the naming rights for Eastlands, input into a planned training facility and an extension of their current shirt sponsorship deal.
Speaking in the Independent, Ayre continued: "The guys from Uefa who are managing it said there would be a robust and proper process about related-party transactions."
Under the financial fair play rules, which come into force this summer but do not take full effect until 2013, teams will not be able to spend more than the income they generate from the football side of their business - which includes gate receipts, TV deals and sponsorship.
Any side unable to match the criteria would be barred from playing in European competition - the Champions League and the Europa League.
Earlier this week, Arsenal manager Arsene Wenger claimed that City's deal with Etihad "raises the real question about the credibility of financial fair play".
"They give us the message that they can get around it by doing what they want," said Wenger. "The difficulty and the credibility of the financial fair play is at stake.
"If financial fair play is to have a chance, the sponsorship has to be at the market price. It cannot be doubled, tripled or quadrupled. If they bring the rules in they have to be respected.
"He [Uefa president Michel Platini] is very strongly determined on that. He is not stupid, he knows that some clubs will try to get around that.
"At the moment I believe they are studying, behind closed doors, how they can really strongly check it. That is his big test."
But City categorically denied the fee they negotiated with Etihad was artificially inflated.
"The financial details of the comprehensive agreement announced last week between Manchester City and Etihad Airways remain confidential and figures being speculated about are not accurate," said a club spokesman.
"Manchester City is a pro-active member of the European Clubs Association and is working actively and with transparency with regard to financial fair play.
"In light of these facts, recent comments about the partnership by some observers are unfounded and regrettable."