2014 World Cup: Wales face relegation into bottom pot
Last updated on .From the section Football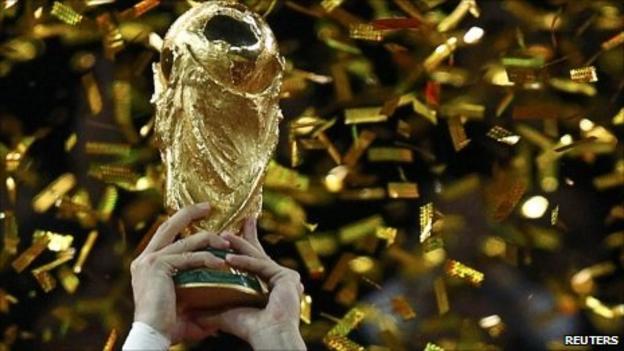 Wales could face a nightmare World Cup qualifying draw because the Faroe Islands seem to have overtaken them.
The 30 July draw in Rio de Janeiro will be based on Fifa's rankings system, calculated by a complex formula.
Wales are tied with the Faroes on 273 points - with one of those teams set to join the likes of Andorra in pot six.
And the Faroe Islands are lobbying Fifa to include decimal points in their calculations - something which would see them leapfrog Wales into pot five.
The Faroes' coach, the former Republic of Ireland manager Brian Kerr, told BBC Sport: "Decimal points will have to be taken into consideration. Our general secretary has had a verbal confirmation with someone in Fifa that our calculations were correct.
"They [Fifa] were surprised that any country could work [the ranking points] out so accurately - they hadn't come across that in the past."
Current Fifa rankings do not recognise the small decimal difference between countries, keeping Wales in pot five and the Faroes in the sixth pot of seeds.
Being relegated to pot six - along with Andorra and San Marino - would make Wales's task of qualifying for Brazil 2014 even more difficult.
Fifa will publish its new ranking list on 27 July, three days before the World Cup draw. Given that neither Wales nor the Faroe Islands played in July their position should not change.
"The teams are tied in 114th place and have been placed in the list on Fifa.com in alphabetical order," said Fifa in a statement. "This is simply the standard way of listing the teams which are tied.
"We are not in a position to speculate on the potential difference of decimal points.
"What we can confirm is that the change has been done on Fifa.com due to teams that are tied being listed in alphabetical order. Other teams were also tied and not listed in alphabetical order, something which has now been corrected.
"The draw procedure, as well as the pot allocations, will only be announced on 27 July."
The whole affair has led Kerr to call for greater "transparency" from Fifa in the way rankings are calculated.
"We don't know if it was an error or if Fifa ignored the differential and were hoping that neither country would take too much notice before the final draw," said Kerr.
"We know with other aspects of Fifa's dealings [that] it's not always transparent. I'm surprised that even after they changed the list last week that they didn't make any comment.
"They have to have a protocol to decide which teams are ahead of each other where the margins are so small and the consequences are serious for both countries.
"If Wales end up in the bottom pot they are quite capable of winning games.
"But for the Faroe Islands (to be promoted to pot five) it would mean we might be able to play against a side of a similar population and that would give us a chance of winning a game both home and away which hasn't been the case in the past."
The fact that the Faroe Islands should be 0.07 points better off than Wales in the rankings was initially spotted by a 30-year-old Romanian computer programmer, Eduard Ranghiuc, who runs a football ranking website.
It is the not the first time that Ranghiuc has spotted a Fifa ranking error - a task that the world governing body has contracted out.
Ranghiuc has pointed out to Fifa that Japan and Colombia had received an incorrect amount of points for their wins against Montenegro in 2007, while a World Cup qualifier between Burundi and the Seychelles was recorded as 0-0 though the result was 1 0.
"Comparing the ranking produced by my software with the one published by Fifa - I have different values for about 10 teams - but the difference is not bigger than two points."
Ranghiuc also believes the current system is skewed in favour of the South American (Conmebol) and European (Uefa) associations.
"Say Japan defeat England in a friendly then they would get 543.9 points, but if Greece beat England in a friendly they would get 588 points, so Greece get 44.1 points more just because they are from Uefa."