Midfielder Patrick Vieira retires from football aged 35
Last updated on .From the section Football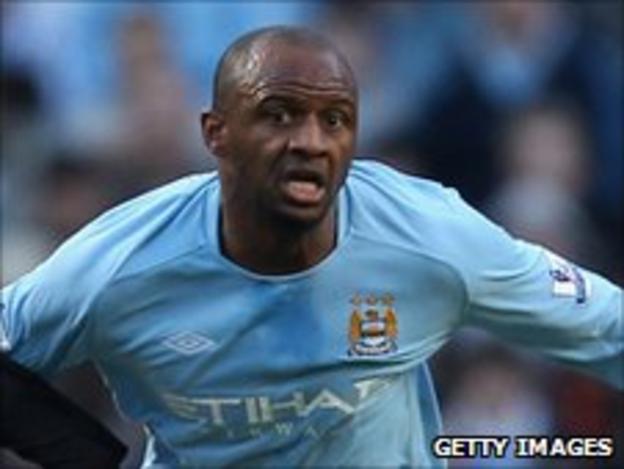 Former Arsenal, Manchester City and France midfielder Patrick Vieira has announced his retirement as a player.
The 35-year-old has been named as football development executive at City.
He told City's official website: "This role is a fantastic new challenge for me and I am very grateful to Manchester City for offering me this opportunity.
"I am confident that I can make a significant contribution to the club's ongoing success."
Vieira was Roberto Mancini's first signing at Eastlands in January 2010, but started just 12 league games in his 18 months with the club.
He added: "I have a lot to learn about the non-playing areas of the business but there are many very experienced people here for me to learn from.
"I am particularly pleased to be given the opportunity to work with the club's community scheme.
"Manchester City has a great reputation for its commitment to its community and charity partners and I believe I can help to take that message to an even greater audience."
"Everyone at Manchester City - the fans, the staff and the players - have made me and my family feel very welcome here over the past two years and I am very happy to have been given the chance to stay and develop my career away from the pitch."
Vieira began his career at Cannes, before moving to AC Milan in 1996, but after nine months in Italy he headed to Highbury, where he became a crucial part of Arsene Wenger's side which won the Premier League in 1998, 2002 and 2004.
He left for Juventus in 2005 and then moved to Inter Milan after one season in Turin.
Wenger said Vieira was an "exceptional" player for his side.
"You can only have lot of respect for what Patrick has achieved," said the French manager.
"His career is sensational. He was an exceptional player for us.
"We have classy players in midfield now but Patrick was special. He was a tall player with good technique."
Manchester City's chief football operations officer Brian Marwood said: "Patrick is the ultimate professional and it is our very great privilege to introduce him as our new football development executive.
"His experience in the world of football is virtually unparalleled and he will be a huge asset to our club as old and young alike benefit from his knowledge.
"His contribution to world football during his time as a player was extraordinary and he will be remembered as one of the greatest players to grace the Premier League."